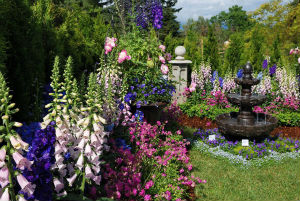 If you want to ensure your garden does more than survive the hot summer days ahead, then read on
Story: Lyne Morehen, MAILDM
In summer, one of the most relaxing things you can do is to spend a few lazy hours enjoying life in your garden. Seated in a shady spot overlooking a well-designed garden with time to appreciate your handiwork… well, it's something worth planning.
In our busy lives it is important to plan our times of leisure. To ensure that your plants are strong and healthy and can survive a hot summer's day, they need to have good soil, be well-fed and -watered, have the right amount of sun or shade and be pampered if things get too hot and windy.
Plants: Choose plants that are suitable to the environment, including the local water restrictions. If you are in doubt as to what to choose you could ask your local nursery, your local council or contact a landscape designer at the Australian Institute of Landscape Designers and Managers (www.aildm.com.au). The Institute has a directory of designers, listed by location.
Soil: Plants should always be in the appropriate soil, and it should be nutrient-rich and readily able to accept water. This might require the addition of organic material and water crystals, especially for new plants. I always pre-soak the crystals before adding to the soil. Where the soil has become water-resistant I sprinkle on granules that treat this condition and water them in well. I find that this is often necessary with pots.
Mulch: Mulching is vital for maximising water retention in the soil and for keeping the ground and the plant roots nice and cool in the summer heat. I prefer to lay premium-mix garden mulch over garden beds and pots, always ensuring to keep the mulch away from plant stems. Place the mulch after feeding and water the plants.
Water: We all like a drink on a summer's day and plants are no exception. Whatever the water restrictions, there are a few basic rules to follow. It is a good idea to install an automatic watering system, especially if you are going away for any length of time. Family and friends can also be a great help in coming round to water when you are away.
I find watering in the morning is best, whether this is manual or automatic, because there is less likelihood of fungal problems as the evaporation that occurs during the heat of the day prevents the plants becoming waterlogged.
Ensure that the soil is wet deep down, not just the top few centimetres and keep in mind plants will benefit more from a good long soak once a week, rather than watering every day (water restrictions permitting).
Containers: On my patio, I have a few plants in pots that need that extra care and which can be easily moved out of the sun on a blistering hot day. Here, I have my splashes of colour and indulge in the occasional water-hungry plant. To water really large patio pots you might like to use a water spike, attached to a hose, which delivers the water to where the roots can drink it up. Smaller potted plants can be placed into a bucket of water with feeding mixture. This gives them a good soak and feed all in one.
There is a new product on the market called Rain Bird Irrigation Supplement. This is a non-toxic gel that breaks down and releases water onto the soil when the soil and plant need the water. Again, check with your local nursery for details.
Shade: Ensure that your plants have the appropriate amount of shade. It can be a good idea to place deck or patio plants in containers that can be moved around, especially on those days that are absolute scorchers. Plants, like people, can also benefit from the protection a shade system can bring, whether a market umbrella or a retractable awning.
Heat stress: During really hot spells, spray plants with one of the seaweed-based products, such as Yates Stress Guard. Your local nursery will help you decide the appropriate product. Give the ground a really good soak on the days when severe heat is predicted.
With some forward planning, you and your plants should be able to survive even the sunniest summer's day.
About the author: Lyn Morehen has a Diploma of Horticulture (Landscape Design) and is the principal of Tallulah Landscapes.