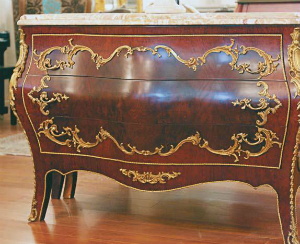 Founder of Image de France, George Manoly studied and immersed himself in architecture and interior design from a young age. Graduating from Architecture College, Cairo in 1979 was only the beginning of his fruitful career. After more than 30 years experience in the industry, George has achieved ground-breaking results including the running of his own architecture/interior design practice in Hawthorn for more than 13 years.
Growing up in Egypt, he was inspired by the strong influence of the classical French furniture culture, which embodies more than 200 years of expert timber craftsmanship. It's a design phenomenon that was introduced when Napoleon arrived in Egypt in 1798 with his army of academics, scholars, artists and furniture artisans. They worked with groups of Egyptians to manufacture furniture in the traditional French style. As a result, these Egyptians became pioneers, introducing influences that would lead to a new era of design culture. George effectively embraces both the quality and production standards of history, using the same old-fashioned methods for creating hand-crafted pieces of furniture. His work displays the exquisite design potential of timber, magnificent finishing and fine details. Timber is an inspirational material for George; not only does he love the feel of it, he is very fond of the colours, grains and the natural warmth it adds to a space.
Applying old methods for finishes and gilding, he uses 18- or 24-carat-gold paper, sterling-silver leafs, and timber. "The amazingly fine leafs and flowers carved with exquisite detail in wood take my breath away," says George. "I feel these pieces can last hundreds of years and people will still admire them." As a designer, George believes that by directing your life and training your eyes, "you will have the eye for the beauty of any object you see". He adds that "designing doesn't become just a job, it becomes a way of living and an appreciation for life". It's obvious that George's work is his muse. "I love my job, it's my passion and it's inspiring my life."
George has a sixth sense for design and a love affair with creating. "We are not furniture designers, we simply have the eye to bring the finest pieces of history into the boldness of today's life.