Capturing the best of the city and the sea, this stunning home is a visual treat.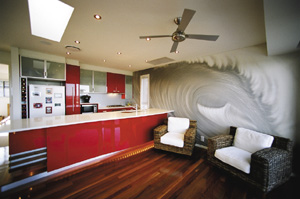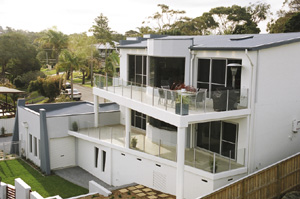 Sitting on a suburban hilltop, this inspiring property takes advantage of amazing views out to Manly's beaches and across to the vibrant city of Sydney. Previously, a 1950s weatherboard home stood on this site and was on its last legs. By incorporating clever design ideas with high-quality materials, the team from Gremmo Homes has once again outdone itself.
One of the key design considerations was to ensure every aspect of the view was successfully captured. By planning the home over three levels, Gremmo created an abundance of living space. Spread over the entire top level, the kitchen, dining and formal lounge area is the perfect spot to unwind after a hard day.
A fantastic reflection of the surrounding seaside location, the main wall of the kitchen features a large wave design that is eye-catching yet subtle. High-quality kitchen appliances blend with a functional layout and funky colour scheme to provide a culinary space that is refreshing and user-friendly. This style has been extended throughout the home with a fresh neutral colour scheme, enhanced by key pieces in each room. Floorboards throughout have been selected in a classic mix of polished timber and polished porcelain to further enhance this casual, contemporary feel.
A practical space and parental haven, the master suite boasts room to move and an amazing cantilever ensuite design with a dazzling tile mosaic. A further three bedrooms are located on the middle level, as well as a billiard room, the laundry and an expansive bathroom.
The basement encompasses a triple garage and a storeroom to keep all the clutter well away from the living areas.
Moving outside, the exterior has unconventional window treatments to ensure the property features a stunning look that stands out from the crowd. This design is another example of Gremmo Homes' ability to adapt and evolve with changing trends.