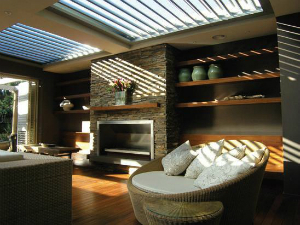 After a lean, cold winter that saw private house building approvals fall over three consecutive months, September's drop in interest rates — the fi rst of what could be two years of cuts — is great news for developers and buyers alike. A thawing in interest rates is expected to melt the Mexican stand-off between sellers and buyers as traditional selling season kicks into gear. While residential demand has become increasingly fragmented, today's design-savvy — thanks to a plethora of information on design and materials solutions now available in magazines, on TV, online or via home shows — have become increasingly determined to live in homes that better refl ect their lifestyle. And with consumers less willing to compromise on basic design options than they were 10 years ago, Roy Baker, managing director of Reid Homes Australia, says the era of the 'one size fi ts all' designs is no longer acceptable. However, he says while people are steering towards greater customisation, budget can be a limiting factor. Space and functionality Interestingly, residential houses have become bigger while lot sizes have reduced over the last decade. But Baker is witnessing a greater emphasis on more effi cient use of space and functionality. And while bigger is typically regarded as better (by most), he says the market has moved on from the 'McMansion' era when big, bland houses (typically on smaller lots) were built with little architectural appeal, and even less functionality.
Demand for the large luxury home is still alive and well, but instead of asking 'how much house can I get for this amount of money', people now want a home that suits their family's specifi c needs, says Baker. Admittedly, houses are still bigger than they were 40 years ago, but due to the recent economic tightening, Baker claims today's design briefs tend to revolve around the better utilisation of space. Whether it's due to today's smaller lot size (courtesy of medium-density in-fi ll) or a reluctance to maintain superfl uous space, Baker says people are scaling back on size. However, he says they tend to spend the diff erence on quality inclusions, especially when it comes to multi-media gadgetry and more especially quality European kitchen appliances. And to ensure clean lines, he says it's not uncommon to see built-in fridges and freezers as an integral part of the cabinet design. Heading for the hills Medium-density living isn't everyone's cup of tea, however, and according to Richard Gremmo, director of Gremmo Homes, those who can aff ord it are creating homes that cater to their lifestyle either on acreage or in developments off ering specifi c infrastructure, and good access to the city. Nowhere is this trend more prevalent than in the Hills area north-west of Sydney. Young families are willing buyers of the standard red-brick threebedroom homes on 600-square-metre blocks (often with pools) that dominate developed Hills suburbs like West Pennants Hills, Baulkham Hills and Winston Hills. And given the general under-supply of new or existing residential houses coming to the market, many people have decided to stay put rather than sell up (within what's been a buyer's market). Designer Paul Meyer is witnessing a strong trend (amongst new buyers) towards knocking down walls and giving a much more contemporary feel to older-style properties. "Whether it's in the Hills area or elsewhere, renovation is the strongest residential property theme across Sydney, with families keen to put in new kitchens and bathrooms," says Meyer. "But the single biggest area of activity is large, covered outdoor areas." Interestingly, many of the cashed-up baby boomers (and younger professional couples) who are selling out of these older-style houses are looking for contemporary and more compact (lock and leave) boutique homes. While the Hills area has traditionally lacked contemporary accommodation, Chris De Celis, director of Harcourts at Baulkham Hills, says more recent developments in suburbs like Bella Vista, West Pennant Hills or Castle Hill are becoming increasingly popular, especially with empty nesters. While many baby boomers are downsizing, De Celis says others are looking to spread out on rural or semi-rural acreage in parts of the Hills area to the north, such as Dural and Kenthurst. And what the area lacks in public transport, De Celis says it makes up for with adequate roading including Windsor Road, the M2 and the M7. "The advantage of places such as Dural (home to retail mogul, Gerry Harvey) or even cheaper acreage (in the north-west sector at Box Hill) is you can have a two-hectare lot and still be only 45 minutes to the city," says De Celis. Live and work locally What's spurred the development of boutique homes (within the Hills area), adds Gremmo, especially around Bella Vista, is the area's everexpanding commercial and business precincts, such as Castle Hill Towers. The neighbouring Norwest Business Park now boasts the offi ces of banks such as BankWest, and the national head offi ces of large ASX-listed companies including Woolworths and Resmed. "A cross-section of residential off erings, encompassing traditional red-brick, newer boutique developments, and rural acreage now make living and working in the north-west a more attractive option for many families," says Gremmo. "The area also boasts many of Sydney's most prestigious schools, plus a range of social and sporting facilities." But no matter where people choose to live, Gremmo says today's developers are increasingly their client's conduit to a more diversifi ed use of design features and inclusions in new homes. And now that homes are bigger, he says two-and-ahalf bathrooms, more spacious bedrooms, and open-plan living areas are also standard features within most new developments. "While open-plan living is the predominant theme, more clients are also future-proofi ng their homes with the cabling and wiring infrastructure to cater for ongoing needs," says Gremmo. Subterranean Interestingly, despite the premium they're paying to achieve it, Ron Englehart, managing director of Melbourne-based Englehart Homes, says nothing has dampened the Australian appetite for garaging. And while two-car garaging remains standard, he says there's a growing demand to house four or more cars. But in an attempt to maximise house size and create window symmetry, he says there is also a move towards subterranean or US-style basement garaging. "Those with underground garaging are also starting to contemplate internal lifts," says Englehart. "I expect to see more demand for this, especially from affl uent baby boomers with twostorey houses that include basement car parking." Alfresco According to James Cooper, principal of Sanctum Designs, what is driving today's alfresco living theme is an awakening over the interchange between indoor and outdoor living, and what an Aussie garden should now be. As the big ticket item on today's design brief, Cooper says the outdoor room is often replacing either a formal dining/living room or is or doubling as the family media room. While outdoor rooms have been around for a while, the diff erence, adds Cooper, is that people are now looking for a lot more permanency than simply constructing a shade sail over an outdoor courtyard. Off ering some exposure to the elements, outdoor rooms are typically 50 per cent (or more) lined with either fully formed roofs or louvred ceilings, together with plantation shutters, solar-treated glass, and ducted systems to create natural airfl ows. Outdoor fi replaces also make for quick transition from internal to external zones depending on the season. And in warmer capital cities, Perth-based Glen Stannard, marketing and sales manager with Peter Stannard Homes, says there's a strong trend towards creating a holiday feel through the clever combination of outdoor rooms and resort-style landscaping using pergolas, smaller pools with built-in water features and spas. In an attempt to capture all-day sunlight within living spaces, he says there's greater appetite for having the bedrooms downstairs and living upstairs, where balcony views to sea and trees can be maximised. He says while people want to create that holiday feel at home, they also demand low maintenance. "We're also witnessing a lot more hard landscaping with permanent paved and pebbled areas," says Stannard. "It's not uncommon to see natural grass replaced with a synthetic look alike for extra-low maintenance."
Building on today's flexible design theme has also led to a rethink about room functionality. According to Cooper, more rooms are being designed to quickly convert from offi ce to art studio or even to an extra bedroom when guests come to stay. "That means guests can be adequately set up where they can be part of the main house, while enjoying some privacy," says Cooper. Material renaissance It may have taken more than 100 years for the penny to drop, but Gremmo says there's fi nally a realisation that despite the ease of construction, the traditional project home neither complements Australia's climate nor its lifestyle requirements. With families now having a much greater awareness of design options and inclusions, he says traditional project-style homes are becoming a symbol of the past. He says families now expect design concepts and inclusions that cater to their individual requirements. "There's also a greater awareness of environmental issues, and families want their home to perform well environmentally," says Gremmo. "An individual design for a specifi c block of land and lifestyle can signifi cantly contribute to this performance." Driving the trend away from (full) brick are myriad cheaper alternatives now available, plus greater awareness of how they perform environmentally. According to Cooper, many clients who might initially favour full brick are often forced into combining rendered masonry with light and semi-lightweight construction materials such as weatherboard, and timber or timber-type cladding or framing to accommodate both design demands and cost constraints. It's not uncommon for Cooper to have to shave around 10 per cent (indicatively $100,000) off a new design due to cost constraints. And when people are faced with either reducing the size of their home or reverting to cheaper lightweight materials, he says they typically opt for the latter. "The desire to eliminate the use of heavy brick trades, due to cost and thermal benefi ts, is a driving force behind more innovative building compositions," adds Cooper. Lightweight alternatives As an alternative to brick veneer, Cooper is moving clients into Hebel — a lightweight concrete that's formed into blocks and panels for a wide range of load-bearing and non-load-bearing construction applications. Equally popular, says Cooper, is EPS foam board for better insulated walls that respond well to changing climates. "Commercial external treatments are being off set by natural timber fi nishes, and we're also using products off ering a natural fi nish internally," says Cooper.
Due to its added scalability, especially when it comes to designing for narrow lots, Baker says other lightweight heavy-duty materials such as Scyon Linea weatherboard are also becoming a popular alternative to brick veneer. It's not uncommon for council by-laws, typically governing suburbs with greater historical signifi cance, especially Federation housing on Sydney's lower North Shore, to ensure new designs refl ect the overall tone of the area. However, elsewhere Meyer expects the changing fabric of Australia's residential housing to continue gravitating away from brick as a slew of contemporary solutions resonates with sustainability and lifestyle issues. "In the case of Queensland, where the climate complements lightweight materials, this could lead to a greater use of concrete GIB and micro metal cladding," says Meyer. Meantime, in the west, Stannard expects a much greater move towards timber frames, especially on two-storey homes where there are substantial savings over double-clay brick construction. "I also expect to see more external cladding fi nishes and more dry-lining and Gyprock on walls where there used to be plaster," says Stannard. "We're also witnessing more panel work, stone or cladding with a Hardie's fi nish or sheet board." But what's accelerating Victoria's gravitation towards lightweight materials, says Englehart, are planning scheme provisions under ResCode regulations that require the upper storey to be indented from the lower storey. He says foam boards are proving particularly popular due to their compatibility with a rendered external face. Tilt to metal Height regulations also under ResCode, adds Englehart, are driving the uptake of a lot more metal roofi ng (such as Colorbond), especially on contemporary-style homes where there's insuffi cient sloping for water to drain off . Interestingly, he says due to exponential demand from emerging economies such as China, metal roofi ng has become a more expensive roofi ng solution than tiles. "The accent today is on a fl at look with a more contemporary feel," says Englehart. "At the upper end of the market, fl oortype terracotta has become more popular than older-style Swiss pattern (wave) or Modern French (shaping) roof tiles to create a fl at roof profi le." Natural appeal According to Englehart, the advancement of green technology is also steering people away from paint and polyurethane fl ooring with toxic fi nishes to the natural appeal of timbers, composite stone, limestone, marble, polished concrete or recycled timber fl ooring, which off er a warmer and healthier atmosphere. He has also witnessed a notable uptake in the use of reconstituted stone, such as CaesarStone. Comprised of 93 per cent natural quartz, he says CaesarStone makes for a diverse and seamless countertop surfacing solution. Sustainability Even though some remain cynical about the environmental and cost benefi ts, Cooper says he no longer has to sell the virtues of sustainability to clients. While this is driven by state government legislation, it's also partly due to a genuine commitment by consumers to reduce the size of their eco footprint. Interestingly, Cooper says some people feel compelled to compensate for larger house designs by implementing environmental considerations within their new home that go well beyond minimum requirements. Delivering on certain environmental outcomes means satisfying state-government-implemented, four-plus-one-star ratings such as BASIX in NSW and the soon-to-be-implemented First Rate (Five) system in Victoria.
While there are many ways to comply with these points systems — through airconditioning, water collection, siting for natural ventilation and lighting, heat retention, solar orientation, and the use of recycled materials — most regulations mandate for new homes to have a minimum 2000- to 2500-litre water tank. In other states such as WA, R4 glass wool batts are required in every new home. According to Stannard, putting rainwater units on narrow lots means combining smart design with sustainability. And in an attempt to optimise energy effi ciency within smart design, he expects to see a greater uptake of 3D building information modelling (BIM) which is now common practice in Europe. In addition to maximising water retention, there's also a move towards solar as an alternative energy to the grid system. However, in Victoria Englehart has noticed a notable indiff erence towards solar hot water since rebates for installation became subject to income means-testing. And while 1.2kW to 1.5kW units are popular, Cooper says it's not uncommon for people on acreage, as in Dural, to part company with the grid completely. And given that the long-term economic benefi ts don't always stack up, he says clients need to be philosophically committed to having a truly independent power source. "For most people, installing PV solar panels is done as much for the feel-good factor as it is a statement against coal-fi re-based power," says Cooper. With a fi ve-star rating now mandatory on fabric (a building term for the house structure) in Victoria, Englehart says it's become increasingly important that energy effi ciency isn't an afterthought to the initial design. And in places such as Melbourne, where people want bigger views to the south, he says there's a strong move towards either double glazing or e-glass (energyeffi cient glass) to ensure compliance with rating requirements. Interestingly, due to greater demand, he's noticed a signifi cant drop in the cost of doubleglazing. "While some designers tend to overglass, clever design can contribute signifi cantly to overall energy effi ciency," advises Englehart. "People can either reduce window sizes or compensate through standard R3 glass wool batts insulation or even up to R6 where necessary."
Designs on the masterplan Norwest Business Park and surrounding residential sites in Sydney's Hills area were earmarked for a masterplan community when the land was acquired back in 1956. Now boasting some 25,000 people, the business park has proved to be a spectacular success, says Peter Gray, general manager of Norwest Land Pty Ltd. "People are moving into masterplan communities like this for lifestyle reasons," says Gray. "The estate includes a series of lakes, and another shopping centre at the other end of the park complements an array of existing services and facilities." Stage two of Bella Vista Waters (a sub-development of Bella Vista) began in earnest six years ago, and as it doesn't provide for project homes, Gray says the accent is on boutique, architecturally designed residences. Featuring prominently within these designs are commercial fi nishes, frameless glazing, rendered materials, solar-boosted hotwater heaters, smaller lawns, and metal roofs allowing for deeper spans, adds Gray. "A Bella Vista Waters land and home package is a value proposition that's proving popular with local business owners and executives alike," says Gray. While less prestigious and not governed by covenant, the 168 vacant lots within Norwest's nearby subdivision, Beaumont Rise (located close to the recently opened Rouse Hill Regional Centre), is proving equally popular. And just south of Rouse Hill at Sydney's newest suburb, The Ponds (Kellyville), Australand is also developing a greenfi elds, masterplan community in conjunction with Landcom (NSW) that's expected to include around 3000 homes when completed. Tony Pizzolato, Australand's general manager (NSW), says if interest in the company's two other Sydney-based masterplan communities (Botanica at Lidcombe and Warriewood on the Northern Beaches) is any guide, The Ponds development should be equally popular with families. In addition to off ering greater certainty over local amenities, Pizzolato says masterplan communities also provide residents with low-maintenance, brand-new homes designed by an architect or master builder. "And in addition to being considerate of the environment, they can also represent greater value than an older home in an established street or suburb."