Award-winning kitchen and bathroom designer Katrina Luxton from Royston Wilson Design takes us on a journey into the future of kitchen and bathroom design.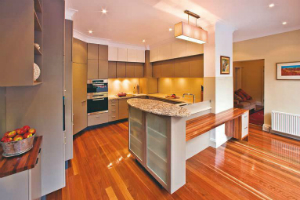 Here in Australia, we have a unique situation created by our isolation. It allows us to be aware of what's happening overseas but feel comfortable in developing our own take. Often we are developing parallel with overseas designers and not 20 years behind (as is often joked!). We are very interested in looking at overseas trends but more as a confirmation of our design style, and trends are used more as a stimulus for our own offshoot versions. Our small population and tight water regulations also impact on the range of products and innovations that make it to the Australian marketplace. Many cannot be imported due to prohibitive price structures with our small population. With colours, the same is true. The light in Australia is very different from state to state to that experienced overseas so again, colours that are popular in Europe may not necessarily work here. We tend to form our own variation on the colour palette that filters through from Europe. The economic crisis and terrorism has made people look inwards towards the home as this has come to represent our security and hope for a brighter future. Design will reflect this, with people wanting their home to reflect a space that flows easily for their family and friends to enjoy. As our lives have become so much busier, society on the whole has a larger, more disposable income and our views (and needs) of life have changed dramatically.
Encompassing these lifestyle changes has been a revolutionary rethinking of the way in which we use our homes. Kitchens have gone from being unseen female-designated work areas to the central hub of our homes, incorporating spaces for multi-person work use and general family living. Bathrooms have also taken on a life of their own, spaces that are to be enjoyed and indulged in, as well as functional. Paintings, sculptures and other accessories bring an ambience to bathrooms unheard of previously. Minimalism is quickly becoming outdated. Though there are still many examples of minimalist styles being built, few are being designed. There can be years between the designing and the eventual construction of a house. With the outside world becoming a more uncertain place and skyrocketing petrol prices, people are looking to softer, safer colours to soothe their souls. This situation has lead to cosy, warmer rooms that are at the opposite end of the spectrum to minimalism. People will be surrounding themselves with familiar possessions to create comfortable areas that help them escape the world's troubles. This in turn reflects aspects of the recent trends on the catwalk, which have mirrored the transition to strong pastel tones. Sharp lines and strong rectangular shapes are being replaced by rounded curved edges coupled with asymmetric shapes defined by the gentler shades. As water becomes increasingly scarce, bathrooms and kitchens are beginning to reflect the moods of those conscious of the drought. More and more, people are going to the bathroom to relax, unwind, rejuvenate and escape after long days. People are looking to upgrade certain rooms within their house, with the bathroom at the top of many lists. These rooms are being customised with everything from luxurious baths and whirlpools to heated oversized basins. Men are spending an increased amount of time in the bathroom, particularly Generation X and Y in comparison to earlier generations. It is increasingly becoming a trend for men to use grooming products and consider their image, more now than ever before. The influence to do so is usually encouraged by partners, peers or marketing. Let's face it, men have always been vain but have managed to hide it under a masculine exterior for the better part of 2000 years! Though double vanities remain popular, particularly in an ensuite situation, there has been a lead to single vanities with greater bench space.
Establishing a relaxed, calming atmosphere is a key component to a successful bathroom
The organic shapes that have been seen will continue to develop but with a more free-flowing, softer line. Romance is alive and well, with patterns and textures in tiles and other finished surfaces reflecting the need for a softer, more meaningful style. Black and white will continue to be a dominant look with timber tones in oaks and walnuts strong. People still tied to an all-white palette will find that texture will be accentuated to define their scheme and keep it from being flat and uninteresting. One of the biggest trends seen is what we call "privatisation of the toilet". In other words, placing the toilet in its own space or private room to free up the bathroom from this utility product. The design of the toilet is thus becoming important as we all look to marry the design DNA from one room to the next. Wall-hung toilets have become the standard in Europe and now designs are taking on a new movement. Barriers are constantly being pushed, with the ideal to achieve lower and lower flushing rates and sleeker design to make the mundane toilet appear as a piece of furniture. The avant-garde bathroom products of the future are soft and yielding, with as few hard edges and sharp corners as possible. Villeory & Boch's collection of surface-mounted basins continues this feel through a new delicate look. Villeroy & Boch's La Belle range evokes a romantic note within this environment, transforming the bathroom environment with a modern design and confident forms. It gives expression to modern individualism and communicates prestige, style and the avant-garde. 
First and foremost, form always follows function. This is the key principal of design. Is design as much about fashion as function? Yes! Innovations in recent years have often been driven by our lifestyle and climate considerations but we also want the beauty to remain uncompromised. Consider the back-to-wall toilet or the wall-hung pan. Both products evolved for a market that wanted a clean, streamlined look but also for people's increasingly busy lifestyles. We demand minimal time spent cleaning! Tapware has undergone major changes, with water saving becoming a hot topic. Manufacturers have responded by delivering a product that delivers the water savings but also maintains a level of luxury that we have come to desire. Whether it be a shower that imitates being out in the rain or a kitchen mixer with lighting incorporated to act as a heat indicator — we want it to look sexy and luxurious in what for many of us is our castle. Showers and their associated areas are increasing in size. Enlarging the shower is a huge trend as people look for more luxury in their bathrooms. They want to feel like they're going into a day spa, but within their own home. This idea of the home spa is a bathroom concept that turns our bathing routine into a ritual and water use into a sensual experience. The wellness effect is created by features such as large but efficient rainshowers (such as Grohe's highly water efficient Rainshower range) or even whirlpool tubs. Furnishings give a sensuous overall look. The home spa is the expression of a new experience of complete luxury that enables us to find the space within our home and the time to ensure complete physical and emotional wellbeing. If space is available, whisper-quiet spas and soaking tubs are a must. The whirlpool concept as part of a relaxation program is enjoying renewed enthusiasm as people look to bring more relaxation within their homes as opposed to going to a day spa on a regular basis. IFO from Scangroup has constantly developed product to suit a variety of needs and to meet our changing lifestyles and tastes. Dynamics change within a household and we don't want to redesign every time they do. IFO's adjustable consoles allow the basin to be set at a particular angle of inclination, which means several people with differing needs can use one wash basin. Disabled users are also accommodated, with brackets available for basins that allow for maximum wheelchair access. IFO's "whole of life" product solutions is a principal which lowers the long-term costs when renovating or replacing. Ranges are updated on a regular basis but the design footprint remains consistent from previous ranges to the latest. This means an updated basin can be installed onto the existing vanity with minimal construction cost — also very time-effective. IFO's Space 2000 sleek shower enclosure is a very clever innovation. With two glass doors that fold both in and out, wheelchair access is easily managed and when not in use, the doors can fold in against the wall. A raise/lower function raises the screen doors on opening so that they do not scrape on the floor and lowers them again on closing: very versatile, particularly with a view to the future. The IFO Sign WC, with its increased height, has been designed to accommodate changing needs. With its increased footprint for enhanced stability and optional arm support system, this WC is worthy of its Red Dot international product design award.
New ideas and innovations from Australia and Europe
Recent years have seen many products designed through demand but also through our increasingly aging population. Consumers are giving serious consideration to their needs not just for now, but for 10 years time. Until now, care suites for those needing to fit out a disabled bathroom, nursing home or similar have been unable to acquire sleek, streamlined product. Caroma has designed and launched a new wall-faced care suite. It is sophisticated in design and incorporates some of the luxuries that the wider market can access, such as the everpopular soft-close seat. This back-to-wall design has an elevated height which is great news for those with restricted movement or who are taller than average. The Caroma Flex Pan is another innovative product that makes retrofitting wallhung pans in commercial environments easy. With updates to older buildings often on a tight budget, this adjustable system accommodates a range of existing setouts. With existing plumbing remaining unchanged, significant savings are made on installation. Lincoln Group is used to dealing with innovative products within its range, with Blum being a star performer. Another product that has made its way to our shores through the Lincoln Group is the EVOline Port, which is a power outlet. In principal, it is a retractable and strong aluminium housing with connections for power and data. Applications range from kitchens to hotels — anywhere that design and order are required! The EVOline has been honoured with a "Red Dot Award" for the highest level of design and function and is, of course, approved to Australian Electrical Standards. Fisher & Paykel has developed a range named Izona that represents an entirely new way of thinking about kitchen design and functionality. Included are a CoolDrawer, CookSurface and VentSurface. According to Peter Russell, Fisher & Paykel's national marketing manager, "Fisher & Paykel has also responded to the increasing desire by both architects and consumers to personalise their kitchen spaces — whether it is through matching design features on appliances or by integrating them directly into the kitchen cabinetry." This new flexibility, particularly with the Izona CoolDrawer, means you no longer have to bend to access the freezer or reach the top shelf of a fridge.
Latest designs and trends in appliances — where does it end?
Increasingly we are seeing choices in appliances that suit those of us who are aspiring master chefs to those of us who just want a basic on/off system. For the majority, the primary considerations tend to be ease of cleaning and instantaneous performance! The younger generations have added kitchen performance to the list of expectations within our busy lifestyles, so demand has certainly driven some of the newer developments. Induction cooktops have continued to gain momentum, with many swapping from traditional gas cooktops to the ease of cleaning and of course performance associated with these marvels. John Di Siervi from E&S Trading Ashburton, who has been in the industry for 25 years, says, "I love the sleek design, ease of cleaning, the speed and instant control achievable with induction cooking. It is far and beyond anything else available in the market place and best of all safe. The cooktop will not operate unless saucepans are placed on the surface." Fisher & Paykel has responded to the popularity of induction cooktops with the development of the Izona CookSurface. It cleverly unites the best features of gas and ceramic glass technology (induction), yielding the superior performance of gas cooking with the simplicity of a smooth glass surface for ease of cleaning. A frameless piece of 900mm x 410mm black glass supports three individual gas burners that rise and retract as needed with the simple touch of a button. The burners emerge for cooking then disappear along with the control knobs when finished. This cooktop also features a world first with a spark-less ignition, instantaneous flame and fan-forced gas. Also in the Izona range is the CoolDrawer, the first multi-temperature fridge drawer. Suddenly the ability to cool, store, freeze, preserve and freshen foods is available with the specifically designed temperature controls. The ability to choose different functions — fridge, freezer, air-tight pantry — gives an incredible flexibility that lends itself to our changing lifestyles.
Advice on sustainability
The environment and its conservation will continue to shape product design and how we think about our spaces. We really need to be a part of nature as opposed to living beside nature if we are to survive in what is becoming an increasingly arid continent. When visiting any major website, environmental policies are freely stated, allowing consumers to make informed decisions in line with their green beliefs. The green bathroom concept offers a whole host of technical features that help save resources without sacrificing comfort and convenience and also proposes a wide range of new ecologically sound materials, production processes and highly durable bathroom fittings. Villeroy & Boch's Ceramic Plus is a unique man-made glaze that reduces the need for chemicals to clean the ceramic surfaces of bathroom fittings such as toilets. As a byproduct, less water is also required to clean the surfaces. As Ceramic Plus is not simply a coating that wears off, this innovative glaze provides a highly durable long-lasting finish that is kinder on the environment in many ways. Grohe has gone a step further by introducing award-winning shower designs specifically engineered to reduce water consumption and to do so in a visually appealing package. Grohe's Rainshower Icon, Eco and Solo, plus Grohe Euphoria all feature water-conserving devices that allow anyone to easily reduce the waterflow via the handpiece. Also, engineered into each shower head is Grohe's unique Dreamspray technology, which delivers precise and even water distribution, further enhancing the water saving functionality. Toilets with lower flush rates and limiters on tapware continue to push the boundaries in our quest for minimal water usage. Caroma's Profile 5 is Australia's first WELS (Water Efficiency Labelling Standards) five-star-rated toilet suite. It has a streamlined style with the option of a soft-close seat. The unique cistern design incorporates an integrated dual-flush button and spout combination. This lowers total bathroom water usage by allowing the same water to be used for hand washing and then flows into the cistern to ultimately flush the toilet. Our survival depends on it!
Top tips for creating userfriendly, safe and efficient spaces
Understanding the benefits of spending money on good design and unseen items such as good-quality running gear cannot be understated. Design and the consequential flow that comes with it underpins whether one has a love affair with the resulting area or struggles to work out why something doesn't feel right. Once the design is right, the rest will follow. Incorrect design can turn a kitchen in particular into a real danger zone. Consideration in design must be given to access for all the family to use a space without interrupting the flow of working areas. The "working triangle" (sink to the stove top to the pantry — pantry includes both fridge and dry goods pantry) has been discarded by some designers but is still a relevant starting point. One consideration that is often overlooked but should be considered is the number of cooktop burners required. The Izona CookSurface features three gas burners (following research that showed that only 2.1 burners are ever in use!). The reduction in burners allows for improved ergonomic benefits as well as a streamlined design. The focus on "allowing people to work within their ideal ergonomic zone which is around waist height" has been one of the driving forces behind Fisher & Paykel's CoolDrawer development. Refrigeration is often a dominant factor in the final design of a kitchen. To suddenly have the ability to place a fully integrated drawer or drawers in key preparation or cooking zones at an ergonomic height suddenly opens up design to a whole new range of options. The old adage "less is more" — provide what is needed and what is useful with nothing more — is as relevant today as ever.