Functionally, the roof protects a building, but aesthetically it should bring it to life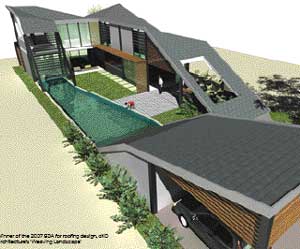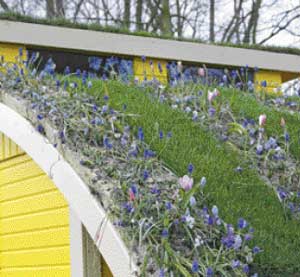 Tiles

Concrete and terracotta: Tiles are generally grouped with more traditional styles of architecture, but just because their popularity has a proven longevity, doesn't mean developments haven't taken place. Manufacturers of terracotta and concrete tiles are constantly developing their ranges to offer the best choice of colours and profiles, not to mention peace of mind when it comes to safety, health and the environment.
Why choose tiles?

Answers by Csr Roofing.
Style: Roofing tiles come in a number of different profiles and colours to suit a range of architectural styles. With our wide variety of traditional and contemporary tiles and extensive choice of colours, you can combine different finishes and shades to create a roof that is as subtle or dramatic as your design.
Endurance + strength: Concrete and terracotta tiles are made to strict strength specifications that meet Australian and New Zealand Standards. Terracotta has been used for thousands of years for both its incredible durability and its beauty. The high density and strength of concrete ensure your tiles will be waterproof and highly enduring. Concrete tiles do not become brittle or porous with old age. In fact, independent testing indicates that concrete tiles actually strengthen and become less porous over time.
Thermal insulation: The density of concrete and terracotta roof tiles provides highly effective thermal insulation relative to other roofing materials.
Wind tested systems: Fixing systems developed and tested at the James Cook Cyclone Testing Station by CSR Roofing provide the benchmark in fixing security for tiles. These products are used throughout Australia and are exported worldwide.
Ocean salt safe: Unlike some roofing materials, modern tiles are not affected in any way by exposure to salt air, making them ideal for coastal locations.
Prevents condensation: A tiled roof can "breathe", minimising the need for insulation against the corrosive effects of condensation that can affect other roofing materials.
Acoustic insulation: The density of roof tiles ensures that your tiles make no noise, allowing quiet enjoyment of your home. The creaking and tapping sounds associated with other roofing materials often have to be masked with insulation. The density of tiles acts as a natural sound barrier to any external noise. "Tiled roofs combine superior durability, quality and strength with a long life… They also have lower embodied energy than other commonly used materials, so they're a great place to start to reduce your carbon footprint. Visit www.comehometotile.com.au"  says Tony Tanner of Roofing Tile Association of Australia.
Zinc Fact File
Long lasting: Zinc is naturally resistant to corrosion, is extremely durable and does not require costly maintenance. It protects itself by developing a patina that gives it an exceptionally long lifespan (40 years in an aggressive urban environment to 100 years in a protected rural environment). Zinc continues to develop its protective layer throughout its life and will self-repair imperfections and scratches. 
Aesthetics: This warm, luminous, highly expressive material responds freely to the play of light, its colours shifting to reflect the changing hues of the sky. Because of its mechanical and aesthetic flexibility, it lends itself to the creation of an often original, sometimes unexpected, but always happy marriage with other materials — wood, brick, cement, glass, etc.
Natural and recyclable: Zinc is 100 per cent recyclable. More than 90 per cent of the zinc used in the building industry is recycled, putting it far ahead of many other materials that are just taking their first
steps in recycling. Less energy is required to produce zinc than the other principal metals. The energy balance is even more favourable in recycled zinc.
Malleability: Architects have unlimited creativity that can be perfectly expressed with VM ZINC®. The material is applied in strips and can, therefore, adopt any shape. It can be bent to fit curves with low radiuses and form complex shapes that are difficult to realise with other materials. The flexibility, malleability and versatility of zinc, combined with its pleasing aspect, make it the material of choice for imaginative building projects.
Easy to specify: Zinc can be laid on slopes from five per cent to vertical. It allows a varied range of construction layouts and the management of complex details that are impossible to realise with other materials. It adapts to local professional particularities, to regulation or comfort requirements specific to each building. 
"The roof form followed a very specific proposed function. The saw-toothed section of the roof is the transfer unit of the light core for each apartment. This core also allows for thermal transfer between each of the four levels and the catchment of the cool summer breezes.' 
"The material used was selected due to the flexibility it allowed in the intricately designed and flashed roof, wall and gutter form. Another positive to come from the use of the selected roofing material is zinc has a life cycle of more than triple that of other more commonly used roof and gutter materials."
Brian Sohier
Director, Burling Brown Architects
www.burlingbrown.com
Steel Case Study:
The Ecobode, designed by Dick Clarke of Envirotecture, is an award-winning design concept for a sustainable home that broke the stereotypical project home mould. The Ecobode 180L was the winner of the Environmentally Sustainable Buildings category, also receiving a commendation in the Houses Less Than 250 square metres category at this year's BDA NSW Design Awards. 
The home features roofing, guttering and walling made from both Zincalume steel and Colorbond steel. Both were chosen for their low maintenance and low service life as well as to increase bushfire resistance and maximise rainwater harvesting. 
"Zincalume steel, in particular, was chosen for the striking roof design because of its vernacular character and to enable easy construction as well as achieve the aesthetic of the eye-catching twisted roof plane, impossible with any other building material." Dick Clarke, Envirotecture 
Why choose steel?
Colorbond provides the answers 
Freedom: Steel suits any home and any land environment. It can be curved and shaped to achieve dramatic roof and wall lines suited to modern designs. Equally, it's right at home on more traditional or heritage-style designs. And because it's a relatively lightweight roofing material, it gives you the flexibility to locate internal walls and design a floor plan that suits your lifestyle. 
Choice: A wide selection of colours is available in steel roofing and can be matched to guttering and wall products. Colorbond has worked with architects and consumers to develop a range that reflects Australian tastes and building styles. 
Efficiency: Lighter colours are proven to be more thermally efficient against heat gain in summer. When combined with insulation, a steel roof can effectively reduce the amount of heat entering your home. 
Resistance: Against both fires and termites. Colorbond Steel is defined as a non-combustible material within the definition and requirements of the Building Code of Australia. 
Environmentally Friendly: Steel is one of the world's most recycled products. Over one million tonnes of steel are recycled every day worldwide.