"The family. We were a strange little band of characters trudging through life sharing diseases and toothpaste, coveting one another's desserts, hiding shampoo, borrowing money, locking each other out of our rooms, inflicting pain and kissing to heal it in the same instant, loving, laughing, defending, and trying to figure out the common thread that bound us all together."   ~ Erma Bombeck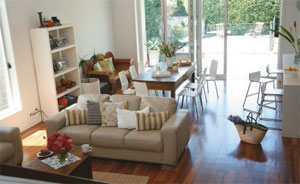 When it comes to how we live our lives, things are constantly changing, and we're not just talking about decorator trends like the hot colour to paint your home. While our parents may have coveted a home with a formal lounge and dining room, then an everyday family room, the 21st century requires more versatility.
Although the average-sized family is much smaller than it was a century ago, houses at the turn of the 21st century are bigger than ever. But, more than ever, people are starting to consider quality over quantity and are turning smaller spaces into functional areas that meet their family's needs.
When you begin to consider a smaller home, where do you begin to compromise on space? For many of us, making our living spaces more versatile is important. Open-plan living areas combining the kitchen, dining room and living room offer living space all the family can use all the time, rather than taking up valuable space with formal rooms that are used occasionally.
When planning your living space, be sure your living area has a place for everyone in your family, plus a few guests, to sit comfortably. Choose a lounge suite and complementary furniture that meet your family's needs, whether it's a long chaise to stretch out on in front of the TV, or a coffee table with room for magazine storage and a good lamp so you can read comfortably. Make sure all the family can watch television without straining their eyes or necks, but also ensure you can position yourself to talk to each other, or play boardgames on the coffee table.
One of the difficulties with open-plan living spaces is having different areas of the room co-ordinate with each other. If the living and dining is one large space, you unify both areas by keeping the style of furniture or decor similar. If there's one long wall that spans both areas, make this the feature area. You can use groupings of furniture to define the different spaces while making the whole space work cohesively.
Consider also the age and needs of your family. A family with young children has very different needs from those of a retired couple and it's important to plan your living space with your family in mind. You may choose to forgo a coffee concept, which enables you to work at the kitchen table and pack up the computer easily without hiding away in a study.
Encourage the kids to watch TV and play games in the main living area rather than in their bedrooms, supporting family interaction and allowing you to monitor what they're watching. But also be sure to provide a quieter place where you can relax without the digital age cluttering your brain, whether you have a couple of chairs in a cosy corner or choose to take tea at the kitchen table.
A big consideration with open-plan living areas is storage and clutter control. If you have a table for a few years if it gives little ones a place to play on the floor close to the kitchen, or you might choose not to clutter the room with extra seating if you very rarely entertain.
With the digital age, large flat-screen TVs and media areas are a must for most homes. The luxury of cinema quality in our own homes, pay TV, wireless and portable computers and gaming systems means the media experience is different from what it was even a decade ago. Media entertainment has a place in most homes but it takes careful planning to ensure it doesn't take over the communal living area. Be sure to include storage solutions in your plan for the room and encourage family members to adhere to that classic home-making rule: a place for everything and everything in its place. It does take some work to make sure a room like this stays clean and uncluttered but this is essential if you want to create a space where you can all relax together.
One of the keys for managing with an open-plan living area is having an escape route. Even the closest families don't want to spend every waking minute under each other's feet, so it's beneficial to have somewhere else to go when the buzz of the whole family in one place gets too much. Whether it's the front porch, the backyard or the bedrooms, make sure everyone has a place they can get away to.
With a bit of careful planning, open-plan living areas can be a space-effective way for the entire family to enjoy your home.