Neutral tones with seamless design offer a wonderful space to relax and unwind.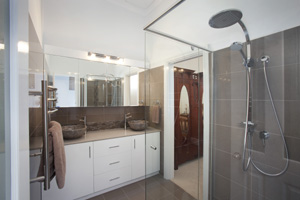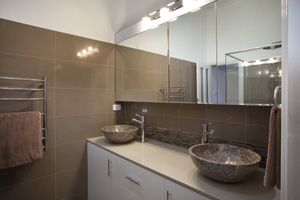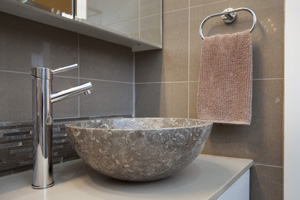 It's hard to imagine this fresh timeless bathroom was once a tired space in desperate need of some rejuvenation. The use of warm inviting tones combines with the natural textures of stone and marble to add a luxurious touch to this delightful bathroom.
The owners wanted to keep the original plumbing but requested more storage space. The custom-built vanity runs the entire width of the room and by adding two shaving cabinets, three large drawers and two cabinets, the storage problems have now been solved in great style. The opulent marble bowls complement the room's overall tone and ambience while also giving a hint of timeless style without being over-the-top modern. This was important as the bathroom needed to complement the Federation-style home.
The grand shower is certainly a lavish functional focal point. The overhead and hand-held shower means everybody's taste in pressure and cleaning is met in striking style. The Mirage shower is also treated with the technology of Enduroshield. This product helps seal the porosity of the glass, meaning less cleaning. In fact it makes dirt and grime easier to clean by up to 90 per cent! To match the streamlined effect of the room, a Cara back-to-wall toilet suite has been included.
The mini-stop has been hidden in the cistern so no hose or tap is on the wall. The use of natural neutral tones has also given effect to the seamless and timeless finish of this beautiful bathroom.
SHOWER Mirage Shower — treated with Enduroshield at the factory before installation (a product that helps seal the porosity of the glass).
BASIN marble bowls: grey round polished marble
TOILET Cara back-to-wall toilet suite — the mini stop is hidden in the cistern therefore no hose or tap on the wall
VANITY custom-built gloss-white vanity the whole width of the room with two shaving cabinets, CaesarStone "linen" benchtop Taps Vivid Vessel and shower mixer, Amio exposure shower with both overhead shower and hand shower
ACCESSORIES a heated towel ladder Wall tiles Gem Garnet 300mm x 600mm polished porcelain, featured in vinlissa brown which is a mixture of polished, natural and rough marble
FLOOR Gem Garnet 300mm x 600mm polished porcelain
COST, approximately, for design, manufacture, installation, plumbing and electrical, $25,000
Ron Tan Photography