Selecting art may be a serious business, but choose well and it will bring you great joy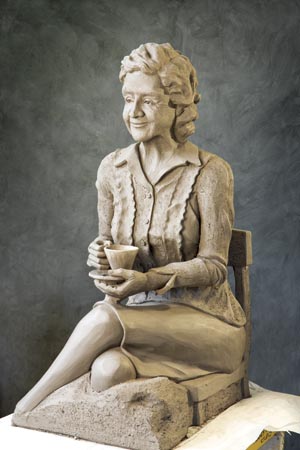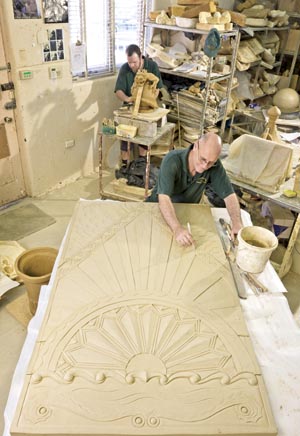 For a work of art to make its mark in a good way, issues of size and scale, placement and sight lines are critical. When placing sculpture within a garden, size is an important consideration, as are all the angles you will be viewing it from. This extends to what you can see from inside your home. Too often, the potential for placing art where it can be viewed from interior rooms is overlooked.
Lighting also plays an important role, so consider the play of light and shadow before making a final placement decision. Think about how you will illuminate your sculpture at night. An uplit artwork can transform your garden's nightscape.
For more than 20 years, Surrey Sculpture Studio has been producing exquisite custom-made fountains, architectural sculptures and garden art that can be found gracing homes and businesses the length and breadth of Australia.
The creative force behind the studio is principal sculptor Graeme Foote, who leads a team of experienced artists adept at creating artworks that cover the gamut of styles from classic to contemporary. Whether you opt for one of their beautifully crafted stock pieces or commission a one-off sculpture, you can be assured that your new hand-sculpted treasure will be a talking point with timeless appeal.
Figurines and fountains have long played an integral role in defining the character of a garden. Once the purview of the well-to-do, exquisitely handcrafted sculptures and unique works of decorative garden art are now well within most people's grasp.
Surrey Sculpture Studio will work in close collaboration with you to ensure that the piece you select — or commission — does more than just complement the design of your garden. They will make certain it reflects your personality and lifestyle, thereby guaranteeing that your new artwork will be a source of immense pleasure for many years to come.
While the company's reputation for custom-designed pieces extends country-wide, it is equally renowned for its comprehensive selection of stock items, including handmade fountains, fountainheads, wall bowls, drinking fountains, sculptures, seats, pedestals, plaques, birdbaths, garden edge tiles and fireplace mantels.
If you want your fountain or sculpture in bronze, Surrey Sculpture Studio offers a variety of finishes. Or you might prefer terracotta, raku (sandstone look) or stoneware in a wide range of coloured glazes.
All pieces are designed and made in the Surrey Hills studio and can be sent anywhere in Australia. To see the company's work, visit the display area attached to the studio, browse the website, or request a CD containing photos of some of the most prized pieces.