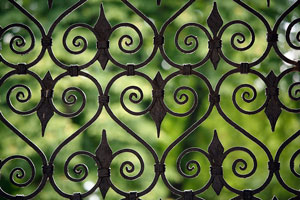 Wunderlite has been in operation since 1980 and has been reproducing some of the most popular pressed-metal designs which were used in Australia from the late 1890s to the 1930s

The era stretching between 1890 and the 1930s corresponds with particular design periods. These were heavily influenced by the Art Nouveau period, and more dramatically by the Art Deco period.
The Art Deco period is making a strong revival, as these patterns were based on dramatic stylised and geometric designs that can be stunning in a more contemporary renovation.
The soft and more feminine designs of the 'Daisy Chain' pattern can also make a lovely statement in a modern bedroom. Similarly, the 'Dragon Scale' is an interesting example of a more contemporary and creative interior design.
Traditionally, these types of patterns were used for awnings and facias. The 'Dragon Scale' has made a dramatic effect — almost medieval in its impression, contrasting with modern interiors.
Wunderlite offers more than 40 traditional designs, specialising in the popular Art Deco and Art Nouveau styles.
For more information
Wunderlite can provide you with samples and offer a full reproduction service for heritage restoration projects.
Phone: 02 6334 4545
Website: www.wunderlite.com.au.
Email: sandy@wunderlite.com.au.