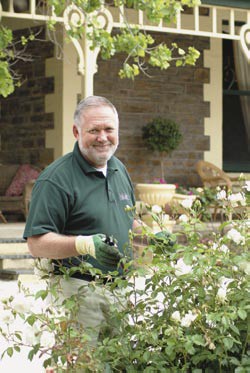 When Joseph Seppelt fled unrest in his homeland of Silesia in 1851 to begin a new life of peace in Australia, he settled in the Barossa Valley in South Australia and proudly named the property Seppeltsfi eld. He originally sowed tobacco, which did not do as well as expected, then corn before finally planting the fi rst grape vines for which the area is now renowned.
Today, visitors to Seppeltsfield have the opportunity to stay in one of the most historic country houses in the area while enjoying a stopover. The Lodge Country House was originally built in 1903 as the home for another Seppelt family member, Udo Waldemar Seppelt, and today retains all the beauty and grandeur that was incorporated when it was first built thanks to its current owners, Colin Currie and Phil Preen. "The lodge remained part of the winery and was occupied by the Seppelt family until the early 1980s when this delightful three-acre section was sold off," says Colin. "It was then renovated and converted into the B&B and we have owned it since February 2006. Original local stone was used in the construction of the accommodation wing and gallery area and the building was designed to beautifully complement the original house.
"We had always talked about running a B&B as some sort of pipe dream. One day the opportunity arose and we jumped at the chance. We enjoy it very much, not to say that it isn't very hard work. We have been surprised at the huge amount we have learned about business in general as well as tourism, wine, food and just managing a large house and garden. The best thing has to be the guests, who have been remarkably warm and generous, and without our housekeeping and garden helpers, life at The Lodge would be nowhere near as enjoyable."
Many people who choose to run a B&B find they have a multitude of work to do to bring the residence up to a high standard before opening the doors to guests. But Colin and Phil realised The Lodge was in excellent condition and that there was no work required on their part before commencing business apart from the gardens, which were a little overgrown for their tastes, so the pair are gradually working to bring them back to their former glory, as far as the drought permits. Colin relates a funny story about a day spent doing some much-needed gardening. The couple had decided to close the gates as no guests were booked in. "We dressed in our grubby garden togs and were up to our elbows in mud and manure," remembers Colin. "We glanced up to see two very serious-looking men walking down the drive dressed very well in suits and ties. Another two then appeared from behind the house and in the driveway two large, white cars approached. They identifi ed themselves as Australian Federal Police and were the escort for the United States Ambassador to Australia at the time who had heard about the property and wanted to do a tour with his wife. Of course, we obliged," laughs Colin.
Decoration inside is in keeping with the architectural style of The Lodge itself. In the guest lounge and breakfast area, which is referred to as The Gallery, Colin and Phil have hoped to create an area that is informal and cosy and that they hope encourages guests to slip their shoes off and put their feet up. They have gone for large sofas and chairs and simple dining furniture that emphasises the informal yet elegant nature of the space. Paintings and prints in this room depict a wide range of subjects but are very relaxed and subdued while the formal dining room is exactly that — lots of mahogany and silver with Norman Lindsay prints and old photographs of vineyards and Barossa gum trees.
"Essentially, the house has inspired us," states Colin. "It is a beautiful and elegant place with lots of stories to tell. Generally, the overstuffed-sofa-in-front-of-the-large-fireplace look is what we have always liked with lots of cushions in warm colours and Cocker Spaniels to complete the picture.
"We plan to keep decoration in The Lodge much the same but improve where we can. We are by no means interior decorators and we will need to get some expert help in moving forward in the decorating sense as our next step is to redo the guest rooms to put our own stamp on them. I think the general theme of comfort and elegance will continue."
Colin admits he and Phil do not collect any particular pieces avidly, although The Lodge is home to a growing family of rabbits, both outside and inside the property. "We love rabbits," says Colin. "When we saw them running around in the yard we saw an opportunity to introduce a pleasant outdoor country element to the interior. The Lodge is home to several rabbits, most of them living in the vegie garden, but a few select decorative one ones sit on the mantel and snuggle by the hearth."
Life in the Barossa is good for Colin and Phil and they are in no rush to return to the city living they once suffered. "Living in the Barossa incorporates the best of both worlds. We have the peace and simplicity of country living without the remoteness that some country towns endure."
Colin's previous 40 years' experience in the hospitality industry, both as a professional chef and manager, combined with Phil's love of food and constant search for cooking perfection means the kitchen is an important room in their home. Not just because it is where they like to create their own culinary masterpieces, but also to guarantee a feast awaits guests.
Thanks to Colin and Phil's decision to run The Lodge as a B&B rather than return it to a private residence, we can all enjoy their wonderful cooking, breathtaking views and some of the finest wines in the country. Now that I think about it, perhaps a trip to the Barossa may be the perfect destination for my next holiday. It makes you wonder if Joseph and Udo Seppelt ever envisaged what planting a few grape vines and building a small cottage would eventually lead to.
For information on The Lodge Country House or to make a booking, contact Colin or Phil on (08) 8562 8277 or visit
www.thelodgecountryhouse.com.au