A beautiful valley in northern NSW is the perfect venue for an architectural designer and his partner to realise their dreams for a more sustainable lifestyle.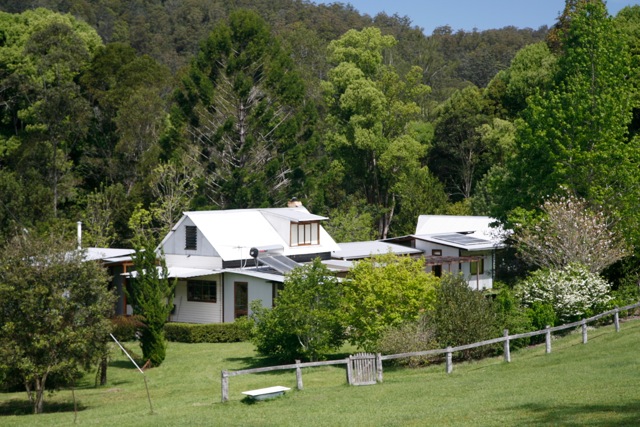 When German backpacker Guido Eberding first landed in Australia in 1983, his initial reaction to what is now his adopted home was more a matter of the complete shock than instant attraction to the "wide brown land".
"I landed in Perth and drove across the Nullarbor," he recalls. "It hadn't rained for months, it was hot and dry and dusty and frankly, I didn't like what I saw. But finally I arrived in Dorrigo and as I drove down into the beautiful Bellinger Valley, I suddenly realised that this part of Australia was simply phantastic."
Having done his dues working for the German civil service as retribution for having successfully gone to court for exemption from compulsory national military service as a conscientious objector, Guido decided to join a community in Bellingen for some much needed rest and recreation from the trials of life in a Berlin still suffering from the strictures of the Cold War.
Along the way, Guido was able to refine the green ethics he'd grown up with in Germany where his mother automatically "sorts recycling into four different colour codes", double glazing is standard and the use of solar and wind power is regarded as the "logical response to diminishing resources rather than a tree hugging fringe thing". He also met his now partner and mother of their three children, Meg Nickle. In fact it was through Meg's mother's partner whom Guido met at a meditation retreat that he found his ultimate career. An architect with National Parks and Wildlife Service, Steve suggested Guido come to work for him on various projects throughout the northern NSW region. Guido was initially happy to oblige, but soon decided he should get some professional qualifications of his own.
Guido went to Sydney to complete an architectural design course through the Sydney Institute of Technology. Rather than going back to Bellingen he returned to Berlin, where there was a boom in building activity following the collapse of the Berlin Wall in November 1989 and the subsequent reunification of Germany.
"It was such an exciting time and I was quickly able to get work as an architect," Guido recalls. "Being fluent in English was an attribute as there were a lot of English crews on the building sites. I worked for an office that had employed two thirds of it's team from the east, a third from the west and I was the exotic Aussie-German. We had lots of great projects and it was a steep learning curve for me."
In the process Guido became reacquainted with a culture where living green was becoming increasingly mainstream. The political coalition between the Social Democrats and the Greens in the 1990s as the government of the reunited Germany gave this movement political impetus, and lead the way for the development of a solar and wind industry where householders and companies are rewarded for feeding into the grid, by paying off interest-free loans which allow them to invest in solar and wind technology in the first place. They also introduced the 'feed in tariff', which rewarded the generation of renewable energy. Numerous countries have adopted a similar policy since. Australian states did follow for a while, but it was sporadic and ever changing due to strong opposition from the established fossil fuel industries and short-sighted politics. To this day, Guido finds it frustrating that "there's hardly a single Australian component in solar and wind generation technology and most of the materials used in Australia are imported from Germany, Denmark, Japan and lately especially from China."
"In Australia all thinking is clouded by the cost of alternative technologies," he adds. "In Germany, electricity costs (until the recent price spike in Australia) were twice as high than in Australia but with all the environmental initiatives, power consumption is half as much per person, so the total cost per household worked out the same. The lack of political will to embrace renewable energy by both mayor parties in this country is astounding, seeing we are so blessed with sun and wind-power potential "
In 1995 Meg caught up with her old family friend when she joined him as part of an extended European vacation. They spent six months transporting a friend's houseboat up the Rhein and Mosel from Dusseldorf and via rivers and canals to Toulouse in southern France. The rest, as they say, was history and since the couple returned to Australia in 1996, they've barely had a day apart.
An unfinished weatherboard cottage became their home, and since then the house has grown "organically" as the couple has worked towards achieving their goal of a sustainable lifestyle. Guido established his Kalang Design House, aimed at spreading environmentally sustainable design across the Bellingen region and in the mean time put these principles into practice with their own property, which is about half an hour's drive from Bellingen. Using durable, low-maintenance zincalume and many recycled materials and "found" objects from building sites and garage sales, Guido and Meg have added to their house as their family has grown with the births of Sasha, now thirteen years, Demian, eleven and Yani, nine.
The property is self-sufficient for water as they harvest rainwater for all their household needs and pump water from the nearby river for the garden which includes a healthy organic vegetable patch and numerous fruit and nut trees. They have a composting toilet – "the same as the National Parks use, because we live so close to the river, there's the risk with septics of spillover contamination and besides, there's not sufficient regulation on emptying them.
Hot water is solar generated. "We maybe have to turn the booster switch on five to seven times a year," Guido says. "And in winter we try to be flexible and leave showers until the middle of the day when the sun is up." Taking advantage of the federal government's subsidy scheme, they've installed an expandable 1kWh solar power unit on the roof in 2007. Responding to constantly changing government policy, dropping solar power panel cost, rising power prices and a better looking bank balance due to the growing business income, Guido could add a further 4kWh of solar power.  "We produce more power now (approx. 7000kWh per year) than we use during the year and that makes our home 'carbon positive'. We do not use CFLs (compact fluoro lights) because they do have mercury within them. Australia did introduce recycling facility for CFLs in July 2010 but many will still end up in landfills with a truly toxic consequence in the future. We mostly use LED lights and dimmable 28 watts energy efficient halogen and I do run around turning lights off after the children."
Guido and Meg are the first to admit that they have a long way to go to achieving a completely "green" lifestyle. "To do that you would have to be completely self-sufficient," Guido says. "Because we live 20km out of town we are very petrol dependent and ideally we'd drive an electric car, but we do need a 4WD to get to our house. At least working from home does limit the need to use the car and we even have the luxury of owning horses that we don't ride – the perfect green lawnmowers."
The great bonus for Meg and Guido of rebuilding and extending their house in Kalang is the practical experience gained through the project. This experience could be channelled into new successful residential Eco projects designed by Guido throughout the region.
"The next big challenge we like to tackle will be to build a house right from the beginning for ourselves closer to town – this journey has already begun".