A unique garden boasting naturalistic plantings and a re-purposed shipping container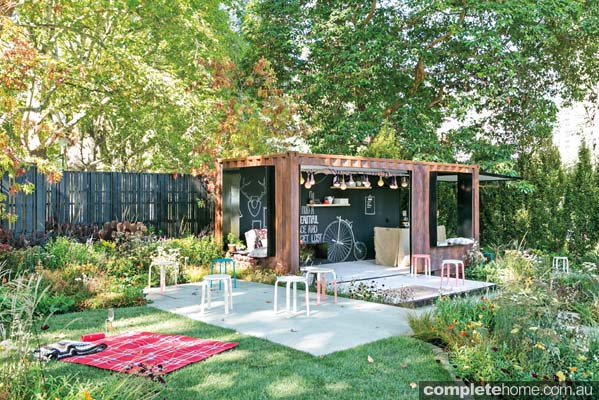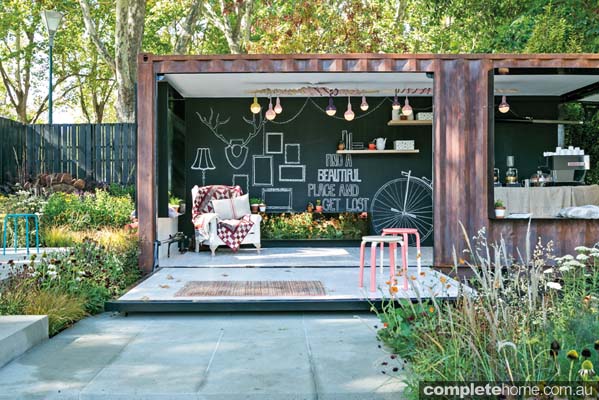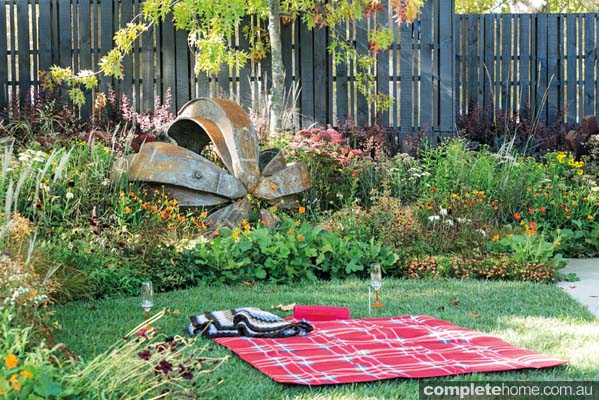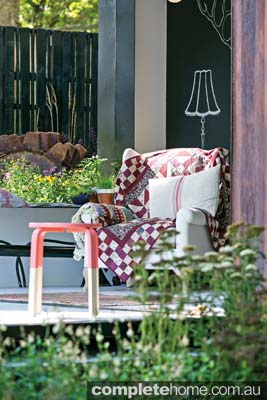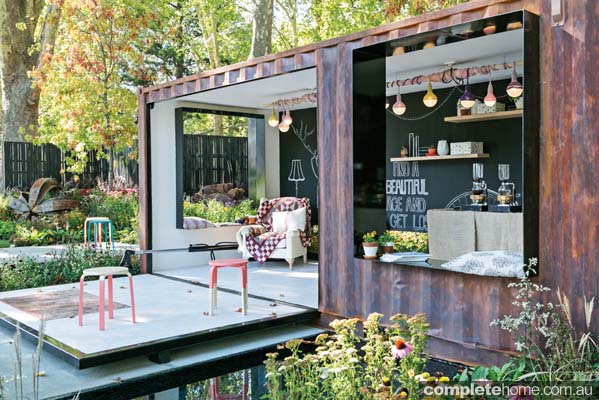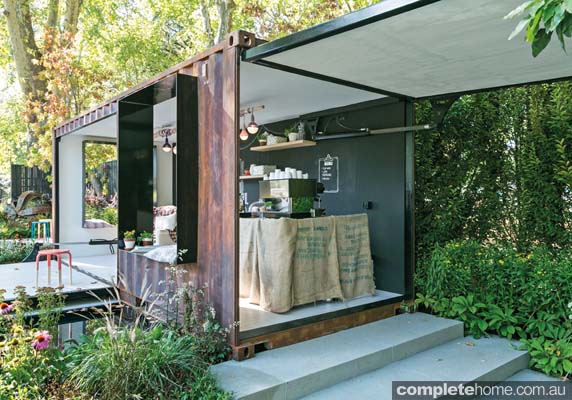 This plant-filled show garden amply demonstrated how "leftover" spaces in a city can be transformed into attractive and functional green pockets. Aptly named Left Overs, the Ian Barker Gardens creation featured a converted shipping container that functioned as a pop-up cafe, which, in a real-world setting, could work as either a temporary or permanent commercial installation or as an unusual outdoor room in a large backyard.
The container-cafe opened out onto paved areas, small groups of seating and lawn, all of which were surrounded by a cornucopia of plants to create an inviting place for people to meet and socialise.
Left Overs, which won a Silver Show Garden Award at this year's Melbourne International Flower & Garden Show, featured a highly naturalistic perennial planting scheme to show new ways of using plants in an urban context. The goal of the planting, which included Echinacea purpurea 'Alba', Helenium 'Dark Beauty', Cosmos 'Chocoholic', Achillea 'Terracotta' and Geum 'Blazing Sunset', was to make the garden feel like an urban oasis where people could soak in nature, even if they were in the midst of a bustling and fast-paced city.
"With naturalistic perennial planting becoming more popular due to the way it encourages people to make an emotional connection to nature, many home gardeners are beginning to ask, 'How can we achieve this look in our own backyards?'. This is not surprising, after all, who wouldn't want their own personal oasis to escape the stresses of everyday life," says Sally Plottel, marketing manager at Ian Barker Gardens.
"Naturalistic planting can be adapted for any sized garden, from a large rural property to a suburban backyard – even a small courtyard or balcony. It is not only beautiful to look at, bringing enjoyment and satisfaction as the garden evolves over the seasons, but it is also relatively low maintenance.
"There are various systems of planting design that can be employed to achieve the overall effect," continues Sally, "such as intermingled, matrix and scatter planting. There is also the 'planting by numbers' method. For example, in our 2014 show garden, Left Overs, we used a mixture of intermingled, matrix and scatter planting to produce the end result."
And by using a converted shipping container as the shell for the cafe, Ian Barker Gardens showed how found or unwanted objects and materials can be recycled and integrated into the design of a new space. Creating a new green pocket in a city – or creating a backyard for that matter – doesn't have to be about completely transforming a space. It can be about working with what is already there, reintroducing what existed in the past and combining this with new design elements.
This garden also showed how a naturalistic perennial planting palette can complement and enhance any style of garden or structure. Explains Sally: "It's a good idea to start with a key plant that will inspire the rest of the colours in your garden and establish a cohesive palette. In our garden Left Overs, the key plant was Coreopsis 'Rum Punch', which starts off yellow in the centre and graduates to burgundy on the outer edges. From there, we chose plants that complemented these colours, with the overall palette becoming warm and autumnal. Don't overthink your colour choices, simply look to nature. It will tell you what colours work together in harmony."
Words: Karen Booth Photos: Patrick Redmond
Originally from Backyard & Garden design ideas yearbook issue 12.3