Pots offer exciting potential when it comes to garden planting
Gardening during spring — there's few activities as enjoyable. You don't have to jump into the heavy digging just yet however, with container gardening a great way to start your spring season. Planting fresh flowers in containers is an easy, convenient project that takes a single day and can be done in any weather. Big, bold pots are the best choice, as not only are they easy to care for but they make a greater visual impact compared to smaller pots. Whether you're looking to create a permanent year-round feature ot creating a seasonal display of colour, big pots offer a variety of exciting options.
Colour highlights
For great colour accents in big containers use colourful bedding plants. Combos of complementary plants will create artistic variety while filling half a dozen matching pots with one variety will make for bold simplicity. Plants that flowers from spring throughout summer include petunias, marigolds, impatiens and pelargoniums. Roses are also a great, rating as among the most pot-friendly of flowering shrubs. Flower Carpet® roses, with their compact leafy growth, are the best choice. Flower Carpet roses carry their thick covering of small shiny leaves for most of the year and are in continuous bloom for at least as long as any other bedding plant.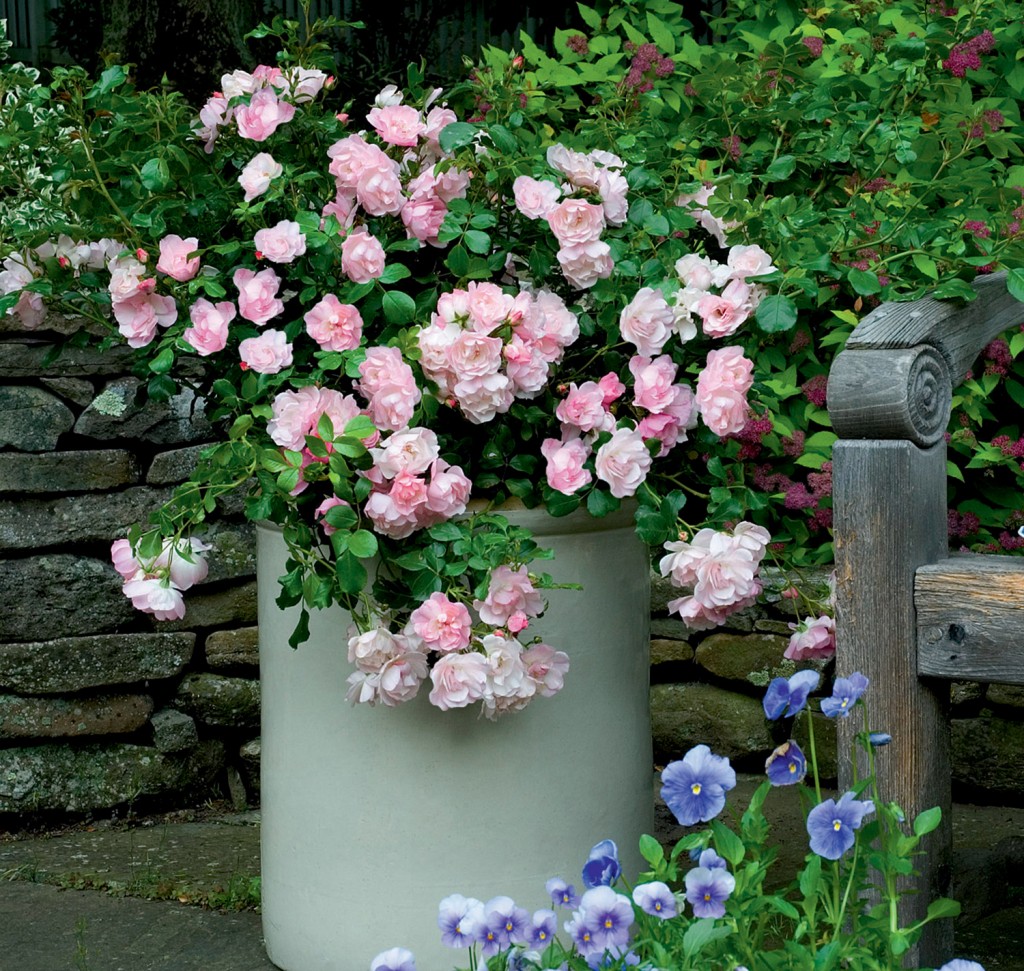 Flower Carpet® roses make ideal container plants, with a choice of nine different varieties making it is easy to find a colour that suits your style.
Tropical flair
Tropicanna® cannas are sun-loving and frost tender, but because they are so well suited to pots, their fabulous striped foliage and tropical orange or yellow flowers can be enjoyed anywhere in the country. To grow Tropicanna, Tropicanna Gold or Tropicanna Black in a pot, choose a large container, at least 30cm diameter for a new plant, larger if you want it to stay in the same pot for longer than a year.
Like all cannas, Tropicannas cannas drink plenty of water, but they will also survive a dry spell. If the leaves suffer from lack of water, cut the plant back, then water and feed, and they'll soon bounce back, as good as new. Whether you plant yours in the garden or in a pot, cut the foliage back in autumn and they will bounce back with vibrant new growth next spring. In cold climates, move pots into shelter for winter.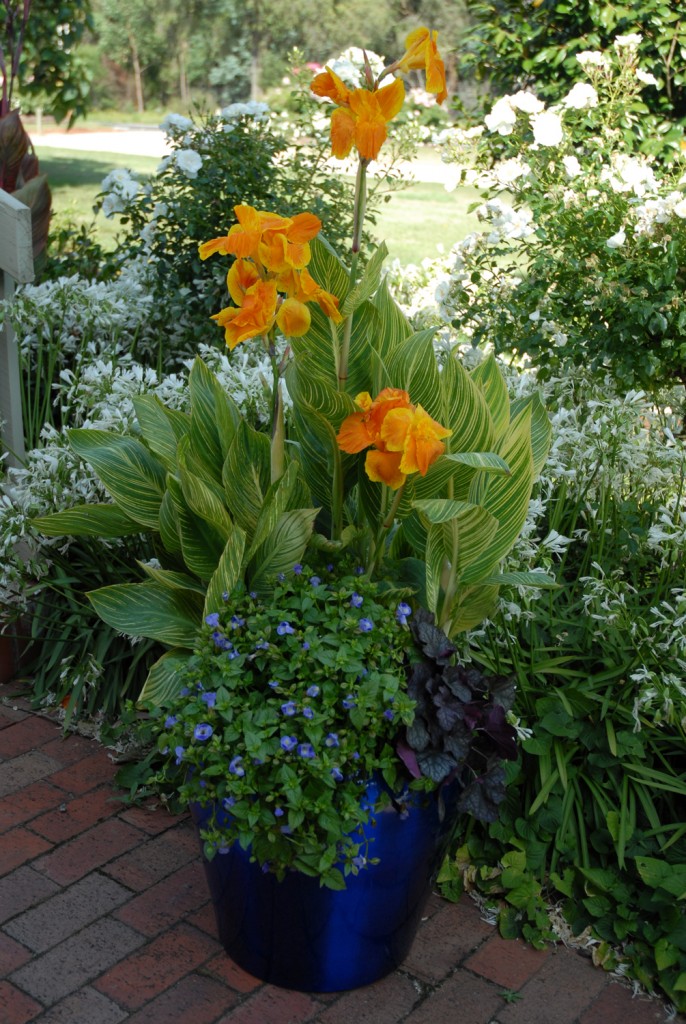 Try Tropicanna in the centre of a large tub surrounded by flowering plants that will fill the space and spill over the edges, such as Petunias, Diascias, Nasturtium or fragrant Heliotropium. It makes a great vertical accent with grasses, flax, palms, silver foliage, or clipped evergreens.
Grown in a container, Tropicanna will reach just over a metre tall. A sheltered spot prevents wind shredding the leaves.
The pool
Pots are a great way to dress up the swimming pool area for summer. Favourite plants for pool areas include palms, and large succulents, but be careful with the spiky ones! Potted olives, lavenders and citrus trees are popular with those who love the Mediterranean look.
For tropical drama, try a dramatic foliage plant, such Cordyline Red Fountain™, they are excellent in pots; and bright flowering plants such as hibiscus or vireya rhododendrons.  The vibrant orange flowers of Tropicanna and bright yellow of Tropicanna® Gold make the blue water of a swimming pool look all the more inviting.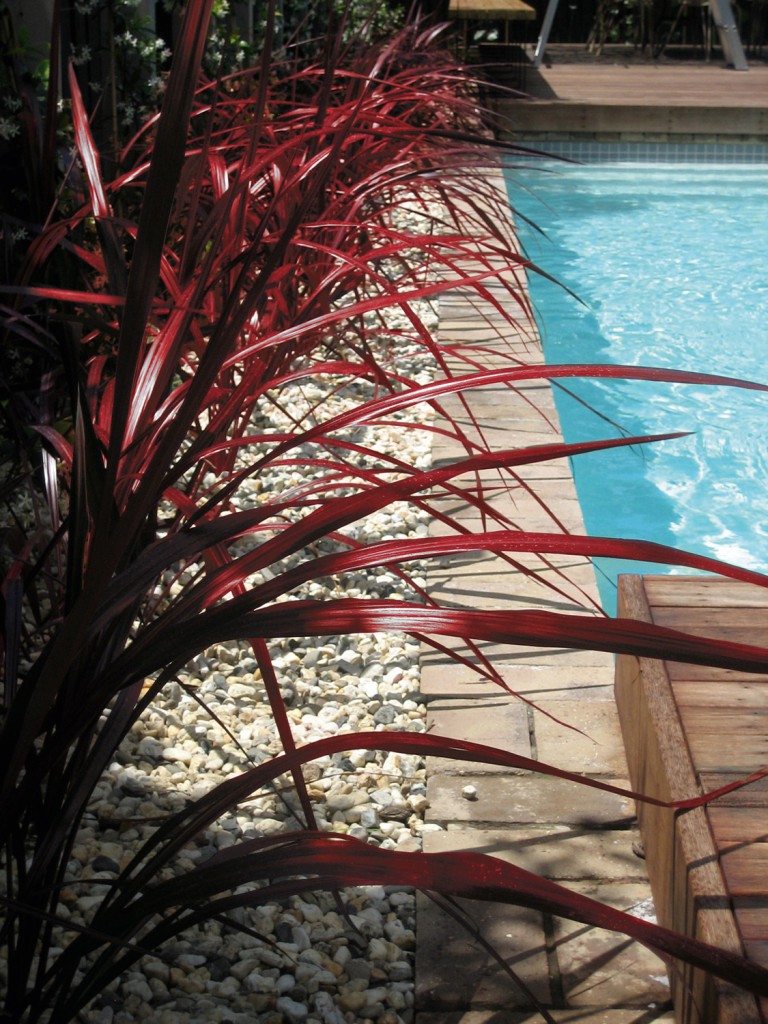 Tropicanna® cannas also look lovely at a pond's edge. They are such moisture lovers that you can submerge them into a pond during summer. Plant your Tropicanna in a big pot then place it in the pond with the rim just below the water line.
Formal features
In a formal garden setting, think symmetry when placing pots and simplicity when choosing plants to go in them by selecting one, or just a few, plant varieties. Place matching urns each side of an entrance, or spaced evenly around a patio. Place your biggest and most precious pot in a high profile space, and choose a plant that looks good from all angles.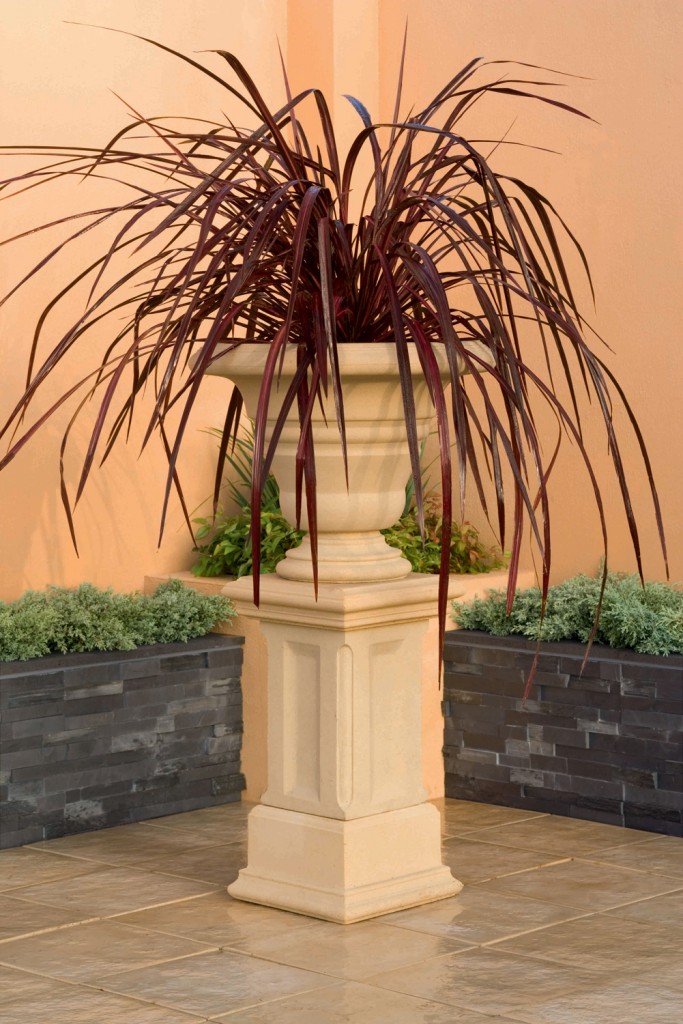 Look for plants with well-defined shapes, which look good from every vantage point. Cordyline Red Fountain™ is one example of such a plant. Its bright burgundy foliage cascades evenly around a short central trunk, on a plant that becomes thicker and more lavish with time. Being drought tolerant, Red Fountain is an excellent no-fuss plant for a container. Raise it on a pedestal so the fabulous fountain effect can be seen to best advantage.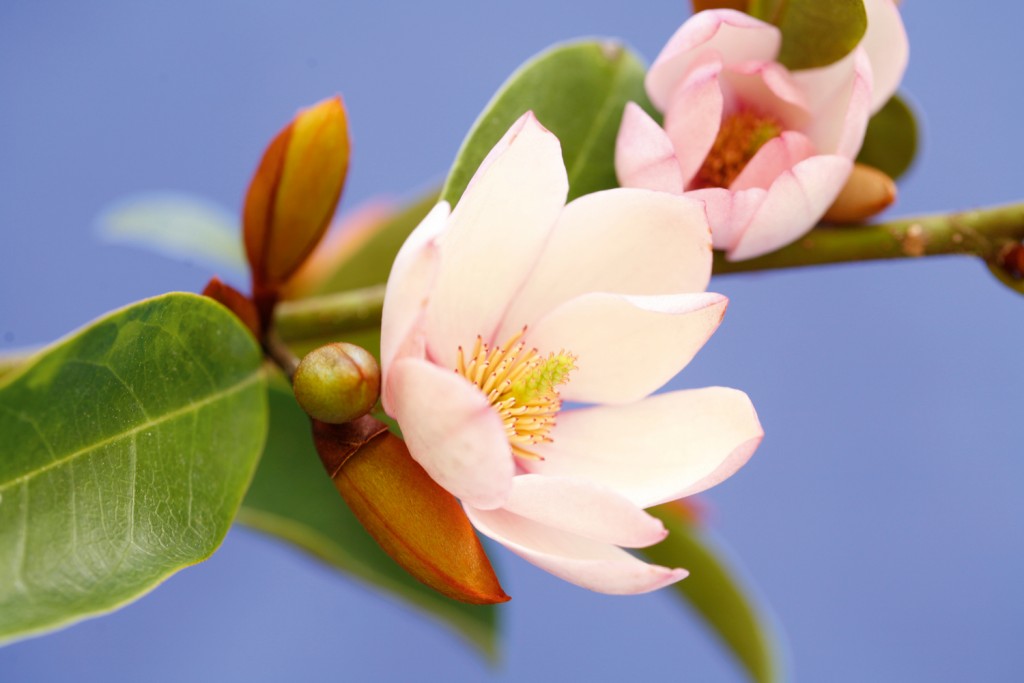 Camellias and Michelias, with their dense evergreen foliage, can be trained as formal lollipop topiaries, with beautiful flowers for winter and spring. Michelia Fairy Magnolia® Blush grows naturally to 3 or 4 metres, but its size is easily controlled with trimming and it makes an excellent tub tree. The huge masses of spring flowers, of white flushed pink, are fragrant. Trim Fairy Magnolia and camellias immediately after flowering to retain their shape without sacrificing next year's flowers
Trees for tubs
Trees in pots add instant scale and height, and the opportunity to enjoy trees in a small space without worrying that they'll outgrow their space.  Look for small trees with good all-round shape. Evergreens are ideal, and citrus are the all-time container classics, but the likes of Japanese maples and lovely twisted Robinia 'Lace Lady' make stunning container subjects, as picturesque in winter as any evergreen.
In a confined space, standard roses and topiaries give the effect of mini trees. Choose roses with a good bushy habit, such as Flower Carpet® roses. Treat the multi-flowering stems to a cut back at the end of autumn and they'll sprout fresh and green in early spring.
For more information
Anthony Tesselaar Plants
Website: www.tesselaar.com