Soil and toil: In the garden with Joe Furfaro.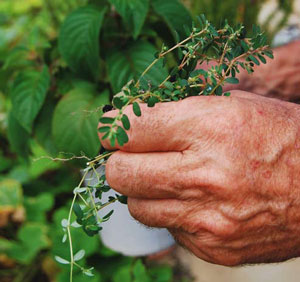 "Plants are like people. If you give them food and water they will grow." So says Joe Furfaro and that's the rule he gardens by. Looking healthy and lush after one of the driest years on record, his garden is certainly one to be proud of. Joe and his wife Roma have lived on the same property in cloverdale, one of Perth's outer suburbs, since 1963. when they moved there, it was sand and more sand with a house in the middle. "None of this front landscaping package or extras that they get nowadays," comments Joe. "I planted the front verge out with Queensland bluegrass in 1964 and it's the same lawn there today. I water it on my two watering days, regularly fertilise it with a controlled-release lawn fertiliser, add a wetting agent at the beginning of summer and mow it often." The verge is the best in the street and proof that it's possible to have a healthy green lawn despite the current water restrictions and water-saving measures in place in Western Australia.
The front garden contains ornamental plants and one lone pumpkin among the lomandra and kangaroo paws … "just to see how they survive on two-days-aweek watering and no special care". Joe classes himself as an inquisitive gardener, always trialling and testing plants and ideas in the garden. Both the front and backyard have had many lives over the years. In Joe's garden nothing stays the same.
Currently, the front yard is a formal garden design with one of the best dwarf bougainvillea hedges in Perth. "You should have been here two weeks ago — it was a picture," he says. "I prune it with a chainsaw back to 60cm high and it comes back looking great after about six weeks. I mixed up the varieties and if I had known they'd all grow differently I would have planted one variety." The whole backyard is given over to the vegie garden, which was initially planted with fruit trees. Joe's favourite tree is an old-fashioned Wilson plum. "It used to fruit prolifically, didn't need cross-pollinating and, even though I moved it three times, it still grew really well. The last move was when the stump was so huge that we dug a trench and dragged it to the middle of the backyard," recalls Joe. "In the old days, I had to use my backyard to grow food so my family could survive," he explains. "My life took a change and I found myself on a pension. To make ends meet we grew a lot of our own food. I just didn't stop growing things and now I do it because I enjoy it."
At 22, Joe was diagnosed with a genetic macular dystrophy similar to Stargardt disease, in which central vision disappears but peripheral vision is retained. Joe is legally blind and, while he finds it frustrating at times, it hasn't stopped him gardening. Joe's determination is something to be admired and he is living proof that often a disability makes you more determined to succeed. Cloverdale is a north-eastern suburb of Perth about 15 minutes from the CBD. Its deep, non-wetting sands make gardening difficult at the best of times. Joe spends many hours in the garden. Getting the soil right is the key and, even after 40 years of digging in compost, manures and blood and bone, you'll still see Joe in the backyard doing the same, improving the soil for the next season's crop.
Euphorbia weed is a curse for Western Australia gardeners. This flat groundcovering plant is hard to spot when you have good vision let alone when it's impaired. Because of this Joe, finds it easier to plant in rows with a gap wide enough between crops to use a Dutch hoe. This way, he can cultivate between the rows, removing the weeds without the risk of digging up the small seedlings. There are three tools in his shed that Joe can't garden without: a hoe, a handheld rotary tiller and — the big one — a lightweight motor-driven rotary tiller. He bought this motor-driven cultivator for a bargain price a few years ago. "I had been looking at them for a while and they must have had a problem selling them as I ended up getting it for below half the price they originally had on them," smiles Joe. "I find digging difficult and this machine makes it so easy. It's lightweight, chops through the fine feeder roots and takes me about 20 minutes to dig over the garden. For the sake of a few hundred dollars, it has enabled me to garden easily.
Joe doesn't follow moon planting; he plants when he thinks about it. He usually has success, although this year his leek crop wasn't too good. He planted seedlings instead of seed for the first time and feels that the transplant shock was too much, so the plan is to go back to planting seeds. A couple of fruit trees in large pots are thriving. The Lots A' Lemons is dark green, bushy and fruiting well, its success attributed to using controlled-release fertiliser at the beginning of every season as well as blood and bone. It's the first season for the persimmon and two large fruit are standing up nicely — shiny, green and maturing beautifully. "Unfortunately, one of the fruit has a little sunburnt patch on it," comments Joe. "We have experienced some really hot days this summer and I'm sure the sun is harsher on plants than it used to be."
The blueberry plants have not suffered this fate, though. They are only 18 months old and fruited brilliantly in their first season. They are growing in mediumsized pots and are fertilised with a controlled-release fertiliser for camellias and azaleas. Joe is experimenting with pine needles as a mulch and if the health of the plants is anything to go by it's been a good decision. "I have put them in a position where they get sun to about 1 o'clock in the afternoon and there's not a burnt leaf in sight," he says. "I wish my rhubarb plants looked as healthy. This hot weather had taken its toll on the rhubarb and, in fact, I think it's planted in the wrong position. It cops the hot sun all day. As soon as it cools down I am planning to move it where it will receive just a little afternoon sun to give it some reprieve in the heat of summer."
Joe is not scared to move plants if they are not performing or are in the wrong position. For that reason, his potted plants are in large plastic pots that go inside big glazed pots. Over the years, he has found that too many plants or pots have been damaged while trying to move them or repot them. Joe's always trying new things in the garden. This year, he confesses he's at war with the cabbage white butterfly. He has found that Success or Dipel has been very successful and is working on an upgraded control this year and can't wait to try it out. It's recycling at its best. When his grandchildren were small, Joe built a safety surround for the wood fire and is now giving it a new life as a cabbage white butterfly cage. The plan is to cover the top with flywire or Hail Guard (an open-weave shadecloth material) and place it over the broccoli and cabbages to stop the butterflies laying their eggs in the foliage.
Over the 40 years or so that Joe has been growing his own vegies he has never liked the idea of spraying chemicals on his food crops and is of the view that, if he plants more than he needs and a few go by the wayside because of a pest or fungal problem, there's still ample for the family. Pests and diseases are not usually a problem and what he can't see doesn't worry him — a good tip for all of us to live by. He does have to resort to spraying weeds in the front garden beds every now and then and has found that, if he cuts the top and bottom out of a large plastic drink bottle, covers the weed and sprays inside the bottle the risk of overspray and drift is small. A rain gauge has pride of place in the middle of the backyard. Joe is a selfconfessed weather watcher and loves the thought of the rain gauge filling to overflowing, something he hasn't seen for a long while, but Joe is an optimist and, like all good gardeners, is always looking forward to next season.
Joe's tips:
• Use milk as a fungicide to stop the spread of powdery mildew in humid weather. 
• Keep a terracotta saucer of water always full, not only for the birds but for the bees, which are very important for the pollination of crops. 
• Keep improving the soil with as much organic matter, compost and pure blood and bone as possible. A garden is never finished. The soil needs to be constantly fed. 
• Keep asking questions to get an understanding of why things happen in the garden. It helps for next time.