Designed with stylish entertaining in mind, this modern pool project ticks all the boxes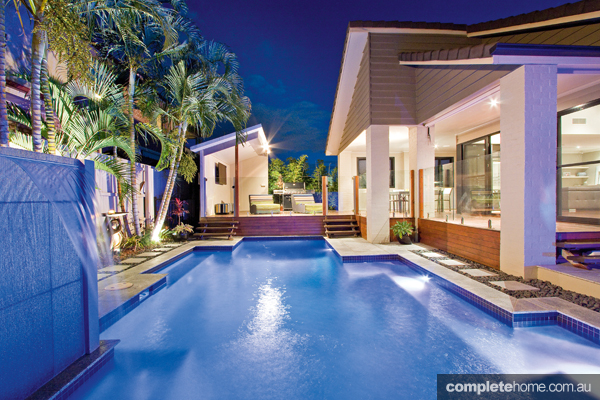 Today, people are looking for the total package, which often means a swimming pool and spa, an outdoor room and beautifully landscaped surrounds complete with water features and colourful garden beds.
In this instance, Majestic Pools & Landscapes has used very centimetre of space to best advantage to give the owners an outdoor entertaining zone that ticks all of the boxes. The pool hugs the corner of the house, ensuring a sense of connection between indoor and outdoor spaces and placing the pool within easy access of the dining deck and the outdoor room.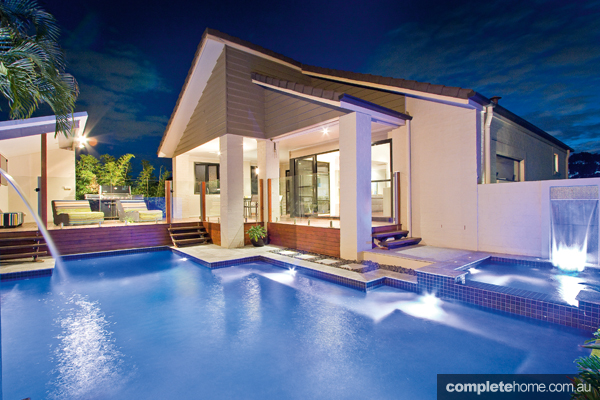 The pool has two sheer-descent water features which have been positioned opposite each other. One sends water cascading into the pool while the other spills into the offset spa, which has been tucked into a corner of the outdoor space.
The beautifully lit interior surfaces of the pool and spa are a vivid blue, which is contrasted by the pale tones of the poolside paving and boundary walls and the warm hues of the timber decking and the timber steps that lead down to the pool area.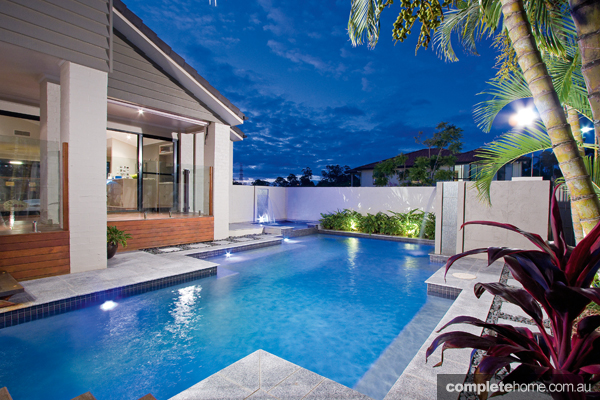 To provide a place for relaxing out of the sun, there is an outdoor room with an angled roof. The outdoor room, which is located on the raised deck, is of modern design, in keeping with the architectural style of the house.
While the overall design is contemporary, the poolside planting adds a tropical flourish and dash of resort-style ambience. Along one side of the pool there is a stand of flourishing palm trees under-planted with foliage plants. In a tiled planter along another side, philodendron provide a lush display of greenery.
Project details
Pool design and construction by Majestic Pools & Landscapes
(Southside Showcase Centre) 38 Devlan Street, Mansfield Qld 4122
Phone (07) 3245 2111
(Northside Showcase Centre — relocating to Southside Head Office)
Phone (07) 3264 4803
Website www.majesticpools.com.au
Words by Karen Booth
Photos by Glenn Weiss
Originally from Backyard and Garden Ideas: Pools, Spas and Water Features, Volume 2