An opulent swimming pool and lavish landscape offers privacy and year-round luxury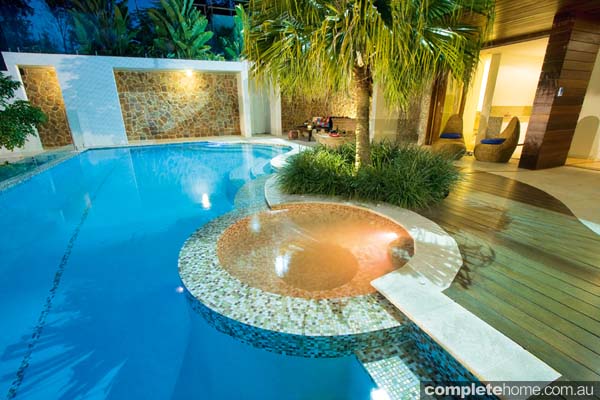 In this backyard of surprises, boundaries are purposely blurred. The swimming pool and landscape, designed and built by Majestic Pools and Landscapes, expertly fuse indoor and outdoor living spaces to provide the owners with the private and secluded oasis they craved.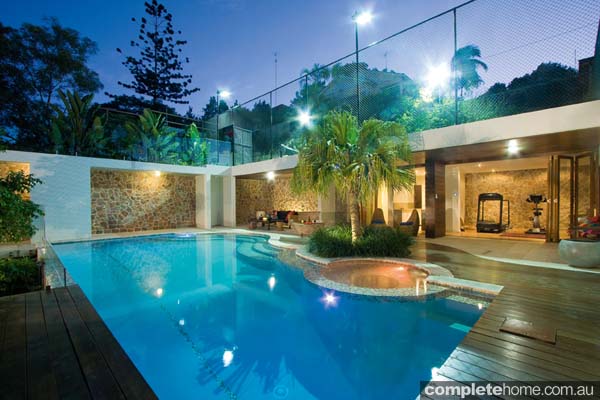 Majestic Pools and Landscapes carefully selected the materials and surfaces so they complemented the vast living spaces and the gardens that surround the four-level inner-Brisbane home. The natural timber and stone used for the pool surrounds, contrast sharply with white, stark block walls while melding perfectly with the natural green backdrop.
A timber pathway leads visitors to the pool and the informal outdoor living area with gym, sauna, shower, outdoor kitchen and lounge. Wide timber boards, laid in an unusual circular pattern, merge beautifully with the travertine paving and stretch to frame the fully tiled circular spa and rich garden bed that serve as stunning accentuations of the pool itself. Glass lines the coping on one side of the pool, allowing those enjoying the pool to see the goings on in the remainder of the outdoor area. The design allows for an uninterrupted view and seamless flow throughout the outdoor area and into the house.
A further glass element is the glass tiles on the pool's interior. The combination of colours and geometric shapes add sparkle to the pool and blend harmoniously with the other elements of the project.
Ozone sanitation keeps the pool clean while five LED lights have been strategically placed to ensure the water glows in beautiful colours. The overall effect of this sleek and seamless design is that of an oasis hidden in suburbia.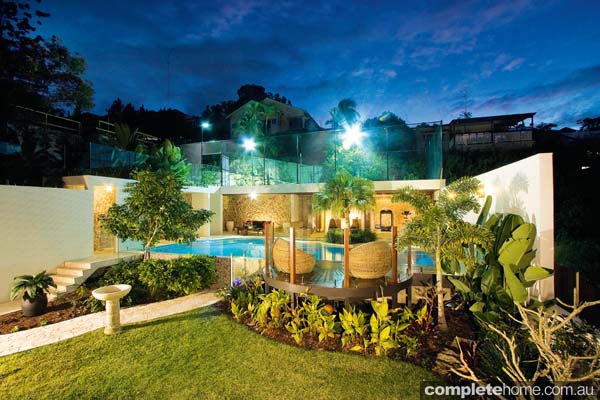 Queensland-based Majestic Pools takes great pride in its ability to design and build a pool or spa to each client's individual needs. While the company specialises in the design and construction of concrete swimming pools, building hundreds of pools each year, the Majestic design team is renowned for its diversity, so can tackle any project — no matter how big, how unusual or how challenging.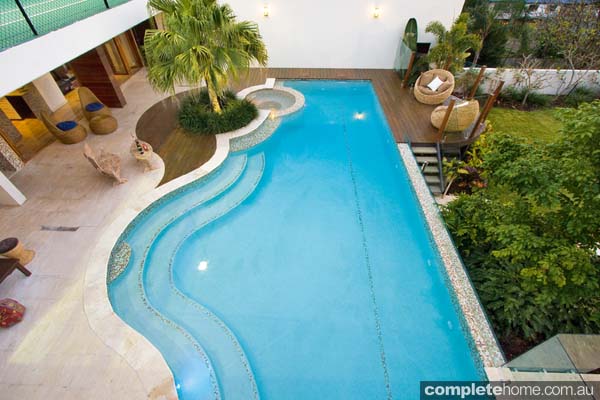 Another significant advantage is Majestic Pools ability to deliver the total pool and landscaping package. By designing and constructing both your pool and landscape, which might extend to a poolside hut, covered deck or beautifully planted garden beds and feature trees, you are ensured that the end result will be exquisitely co-ordinated and perfectly tailored to your individual lifestyle needs, and the specific requirements of your site.
Project details
Pool design and construction by Majestic Pools & Landscapes
(Southside Showcase Centre) 38 Devlan Street, Mansfield Qld 4122
Phone (07) 3245 2111
(Northside Showcase Centre — relocating to Southside Head Office)
Phone (07) 3264 4803
Website www.majesticpools.com.au
Originally from Outdoor Design & Living magazine, Volume 29