A derelict, heritage-listed boat house has been transformed into a unique indoor lap pool.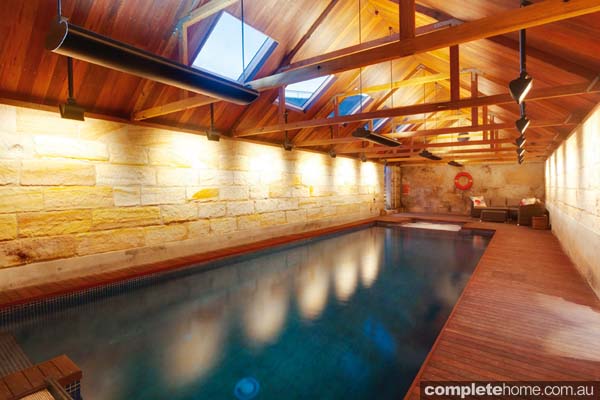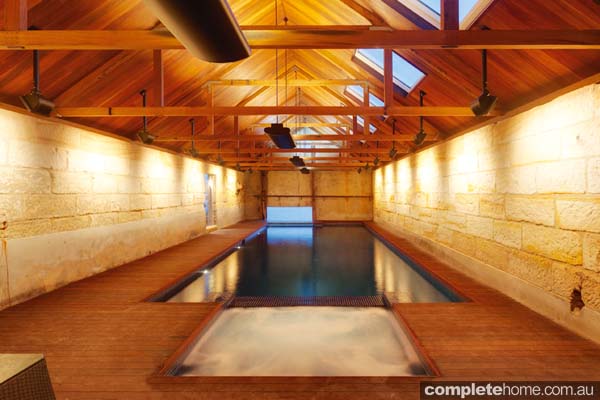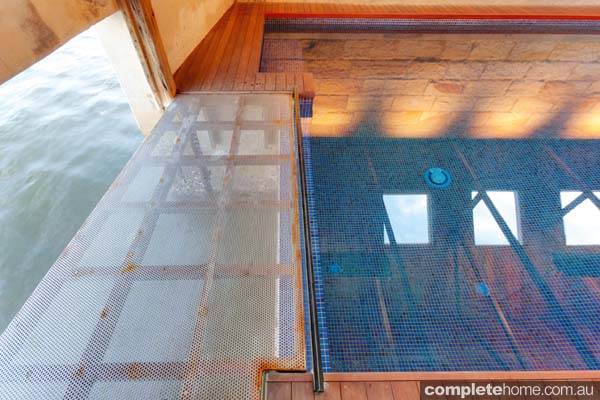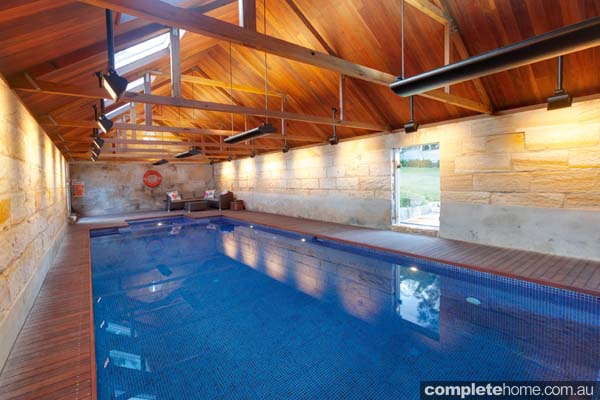 The objective of this unique design was to turn a derelict, heritage-listed, absolute waterfront boat house — once used by a 19th century Sydney governor to park his boat — into a contemporary indoor lap pool. The result was this striking private indoor oasis.
The sandstone boat house structure has been seamlessly incorporated into the pool house, with a carefully formed 10m × 4m lap pool built with a 4m × 2m spa within. The spa has a concealed water tank surrounding it. Stone coping was used around the pool and a rich-coloured timber deck complements the timber ceiling and beams.
With no access from the road, all material had to be brought in and taken out by barge. In addition, the majority of the work had to be done at low tide, with wetsuit-clad workers undertaking much of the work at the outset and a temporary wall had to be built to keep water out of the construction site. Because of the waterfront position, all reinforcing steel had to be galvanised.
The pool and spa are fully tiled, with underwater LED lights installed to enhance the ambience of the pool and its surrounds. A glass window at the rear of the pool house provides views over the bay at Drummoyne, with four skylights in the timber-clad ceiling bathing the room in light.
For ease of use and convenience, a special control system has been installed in the nearby residence to enable the owners to operate the pool and spa. In addition, an in-floor cleaning system and fully automatic chlorine and acid sensor dosing system have been installed. There is a sand filter with matching pump and heat pump to enable year-round use of the pool. The 1m-deep spa features eight spa jets and an air blower. For sustainability purposes, an 18,000-litre water tank was installed behind the spa area.
Sunrise Pools has been designing pools to suit each owner's needs for 37 years. The company's expertise has been sought out on up to 100 pools each year in the Sydney metropolitan area. Sunrise Pools has won more than 200 awards for its work and is a proud member of the Master Builders Association, SPASA and the Housing Industry Association.
For more information
Sunrise Pools
5/8 Victoria Avenue, Castle Hill NSW 2154
Phone 02 8858 4777
Mobile 0418 229 009
Email sales@sunrisepools.com.au
Website www.sunrisepools.com.au
"Under One Roof" from Poolside magazine 40