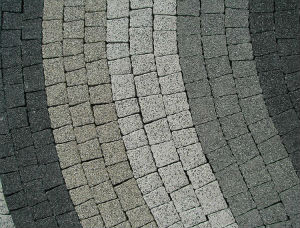 For a look that is enduringly elegant, there is nothing that can rival natural stone
Story: Dean Boone, MAILDM
Stone has always has been, and always will be, an enduring product for landscape designers the world over. Its subtlety, its elegance, its durability and its earthy qualities have always ensured that it is always in demand.
A big trend in Australian landscape design over the past few years has been the return to a much stronger and conscious use of natural materials. Their timeless appeal and ability to be reused, reworked and reinvented into new and exciting forms, colours and textures has ensured that stone and all of its derivatives remain as popular as ever.
The recent resurgence of native plant materials and gardens that are more uniquely Australian has also led to a greater appreciation of natural materials in landscape construction and stone is at the top of the class. The drought has done many things to us and our gardens, but most of all, I believe it has really made us take a long, hard look at ourselves and truly admire what this big brown land has to offer.
In architecture, you can often find new and emerging landscape design trends and the most obvious in recent years has been the trend to integrate natural materials, such as old timbers and natural stone, into the structure of our homes. This can best be seen in our alpine and mountain regions, where the very best, sexiest architecture in very dramatic settings is leading the way.
Many new buildings are using timber and stone together with render finishes, metal and glass. All of this translates into what and how we create in a landscape. The best designs respond not only to a location and the client's wishes but also to the architecture that the garden envelops.
What's really popular?
Stacked stone would have to be the standout winner of late. It can be seen on houses, on retaining walls, in water features and on just about anything that stands still. The colour range, stone sizes and formats, make this a really diverse product. It does, of course, run the risk — like any fashionable item — of being overused, but so far it has been really well used and well placed.
The other big item is a lot cheaper, greener and can be found just about everywhere. It's the use of natural, locally sourced stone. There is nothing quite like the stone that has come from your local area. It's a hard thing to quantify but it just looks right. The colours and hues reflect the soil tones and native vegetation and once in place it ages with classic, timeless beauty.
This stone, of course, has to be worked more than stacked stone to get it in place and is better suited to homes and gardens that are more country and old in style. A dry stone wall can sit well in a contemporary landscape but it does require a lot of skill and time to get right. 
Why choose stone?
The complementary qualities of stone go way beyond just some nice colour combinations. There is something magical about using a natural product over a manmade one. It adds an instant age to your garden and always draws the eye.
By selecting local natural materials you'll find your garden takes on the character and essence of your local area. Your hip pocket will also love you as locally sourced materials are often the best price. As a bonus, you'll also be doing your bit for the environment because you'll be reducing the need for excessive transport and all the associated petrol use.
Stone walls are not the cheapest feature of a landscape but they are probably the best looking. Stone paving and tiles come in myriad shapes, colours and textures. How your stone is finished can alter the look, feel and colour. There is a plethora of choicesand I think that is what makes stone so appealing. The choices seem endless and that means you can make your own garden unique by using real stone.
My tip as a designer is to always make sure you get a sample before you sign off on the final delivery. Stone is a natural product, so you have to expect some variation – that's just part of the character. Checking the samples and making sure you are getting the right colour remains important and relying on images in brochures or on the web is not a good idea.
What finish is best?
The combination of finishes is also very broad and this will change the look and colour of your stone. Here are two rules to follow:
The rougher the surface the better suited it is to being outdoors. Honed finishes vary in texture and the more it leans towards a polish the less you will want it somewhere where it gets wet. Polished stone is best on benches and indoors; rough honed, sawn and natural finishes work best outside.
The more finished or dressed the stone, the more expensive it will be. With natural products you pay for what you get, there are no short cuts. In the case of pavers and tiles, the more calibrated (or even the thickness) the more expensive and better quality it will be. If you go for a cheaper option, you can expect difficultly in laying, problems with lifting and popping down the track and it will probably make a hollow or drummy sound. It's worth getting it right the first time.
Stone's big drawback is that's its permeable, so oil and red wine stains are going to last. Sandstone can go black quickly and, regardless of what sealer you use, you will get wear and colour change. The point is to remember that it's a natural product and it's just doing what nature intended. Work with it and not against it in your design. A well-thought-out design will resolve these issues and make the most of your natural products.
Stone is a timeless material. It always looks great, can be worked and reworked as your garden grows and used in all manner of forms. The range of finishes to choose from and the ways in which it can be used are endless. If you're looking for inspiration, there's no better place to start than in nature. The Australian landscape is unique. What better way to celebrate it than by using the materials nature has provided to create our own little masterpiece?
Dean Boone is a Sydney-based landscape designer and director of distinctive. He is also a Vice President of the Australian Institute of Landscape Designers & Managers
Dean's design tips
Combining natural stone with a render finish is one the most classic and enduring ways to really set a natural material into the built landscape. The classic use of dark stone along with a smooth, creamy render plays on both colour and texture. Creating a water feature in this format only adds to the mix and adding some night lighting brings it all to life.
Combining two different types of stone together is another way of bringing the soft character of natural material into the landscape. A roughly finished stone offset with a smoothly honed finish is an easy way to add texture and variety. This could also be achieved by combining both a reconstituted material with a natural one. The point is that a natural material adds to the overall appeal.
Another textural element to consider in your garden is the use of gravels, pebbles and stones. The random nature of these materials and the variety of colours, shapes and textures mean you can really make a difference to the look of your garden. Gravel also has the advantage of allowing water to permeate into the root system, so your gardens are going to love you for it.
Stone capping to piers and walls has been around for ages and I can never get enough of it. There's something nice about the way it finishes and makes everything look tidier. Stone caps can often also contrast or complement the wall itself and using a different textural finish is a simple of way of using the same material but in a different form.
Rich, soft, warm and delicate — the various tones and hues of stone paving can make a beer budget garden look like a champagne affair. You don't have to use a lot of it to make it really work and it might just be a decorative insert somewhere in the garden, but add a little stone and your garden may turn out to be the best-looking in the street.