How do you design a residential tower that stands 29 storeys high within the heart of Melbourne's art precinct? With the collaboration of some of Australia's most celebrated artists and design minds.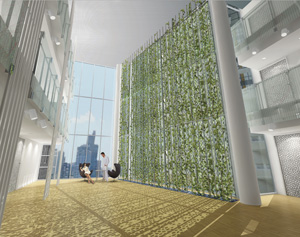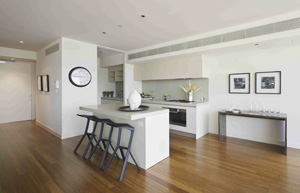 When founding their initial concepts for a high-rise site located on Kavanagh Street in the arts and cultural precinct of Melbourne, developer RI Investment Trust and development manager Stable Group decided a collaboration of artistic minds was the best way to approach this project. This development team, conscious of their sense of responsibility and with Melbourne's iconic Arts Spire and National Gallery as a backdrop, knew the project had to be something that reflected its position and reiterated its value within the heart of a thriving and creative space.
Surrounded by the Melbourne Recital Centre, Melbourne Symphony Orchestra, the Arts Centre and backdrop to the National Gallery of Victoria, Federation Square, the Australian Centre for Contemporary Art (ACCA), Malthouse and more, Triptych has much to live up to.
"Our motivation has been to create a living artwork through the minds that think best on that level," said Stable Group managing director, Danny Flynn.
Positioned on a sharp angular block occupying 1853sqm, Triptych is a scalene-shaped building featuring perhaps one of Australia's only titled artworks as its iconic facade, by renowned Australian artist, Robert Owen. "Digital Showers" takes shape in a subtle prism of colours cascading the building's exterior, representing rain drops that in fact are ceiling-to-floor louvered windows allowing occupants the unique high-rise opportunity to maximise airflow and cross ventilation throughout their apartment.
Owen's vision for the exterior of Triptych also takes inspiration from the DNA cells of a leaf and, representing the core essence of life that binds people together as family, comprises molecular-looking patterns over which the "raindrops" cleverly glisten. 
The unique collaboration of designers includes architects nettletontribe, Carr Design, Robert Owen, public spaces designer Geyer and Jamie Durie with his expert team from Patio, resulting in a living space that provides unique features such as its vertical villages and living walls.
Nettletontribe director Jeremy Bishop said the three-edged site provided an interesting challenge for the building's design.
"The combination of art and architecture has been paramount in the development of Triptych considering its location," he said. "Working with Robert Owen allowed us to further develop the glass façade in line with his artistic vision, which allows the building to make the most of its unique edges in a simple, elegant and sleek design."
With apartments designed to take space into consideration, even the smallest apartments are spacious by comparison while the largest apartments include up to 330sqm of living space. These prestigious higher-floor residences are magnificent in their scale and opulence — but all take advantage of the detail found within the design. With formal and informal living areas, front and back entryways to the apartment and spacious balconies or external entertaining areas, the apartments offer residents the very best in luxury apartment living.
Responsible for the interior design, award-winning design house Carr Design has developed a unique vision for Triptych. Director of interior design, Daniel Stellini, said Carr allowed for the creation of home-like spaces for each apartment, something that is rarely achieved in apartment developments.
"Taking into account the building's location in the arts precinct, apartments have been designed with style and simplicity to provide residents with a canvas to showcase artwork, furniture, and make their apartment their own," he said.
Doing away with the dark and disorientating effect of enclosed corridors, each apartment opens out to a vertical village featuring a nine-metre-high beautiful glass atrium with a live green living wall and stylish communal space for residents to enjoy.
Each three storeys at Triptych form a vertical village, comprising between 10 and 27 apartments. These stylish open spaces provide generous open-air atriums with sweeping views toward Port Phillip Bay.
"Vertical villages with their three-storey open foyers bring swathes of light into the apartment's entry points while the living walls, featuring growing vines, bring a calming experience directly into each space. The concept has arisen from the European idea of community living, where one doorway leads to an enclave featuring five or six homes and becomes its own life force, where neighbours can choose to interact or enjoy the open space," relates Danny Flynn.
This design has continued throughout the building, with each apartment featuring its own private entranceway and foyer, allowing for a place to relax, store coats and umbrellas before entering your apartment. All 157 Triptych apartment entranceways feature a unique Robert Owen-designed gate, which continues the theme of the building's external façade.
A rooftop garden on level six provides an idyllic community space for residents, with a stylish yoga deck opening to a 25-metre swimming pool and mature garden space offering an indoor or outdoor experience dependant on weather or mood. Outdoor gardens in this design are the work of Jamie Durie and his professional team at Patio. Greenery is the key, with luxurious planting complementing Zen-like spaces where it is imagined people will relax and get away from the hustle and bustle below them.
"Our rooftop design is an artwork within itself," explains Danny Flynn. "Creating spaces that are not only great on paper but will thrive upon delivery is imperative to our offering at Triptych. Jamie and his team have absorbed this and developed a plan for a gentle, passive space where people will feel transported from a high-rise situation to a place which is more of a private garden environment."
The level of artistic detail is clearly evident inside the building, showcased throughout the apartments in bespoke joinery and cabinetry made in Italy by Poliform. The Italian-designed cabinetry offers sleek and polished finishes that exude luxury in a simple, uncomplicated manner to provide residents with flexibility to maximise space and ultimately offer apartments a style that will last a lifetime. Poliform's kitchens are complemented by Qasair ducted extractors that whisk cooking odours from the apartment building altogether, removing all traces of a neighbour's pot roast and ensuring the building's internal air remains as pure as possible. The spacious and functional kitchens are breathtaking in design and include European design appliances from Miele.
The three- and four-bedroom apartment designs also include the luxury of a galley-style kitchen with an enclosed scullery, where a chef's kitchen can be tucked away from guests — perfect for entertaining.
Lofty 2.7-metre or 2.9-metre ceilings provide the opportunity to further exploit the artistic position and inclination of the building, with wall spaces ideal for large-scale artworks that can feature throughout apartment.
"The architects have been mindful of our future occupants, with an indication of a majority of owner-occupiers including artists and creative minds, and the way in which they live, with walls and ceilings scaled to provide ample opportunity to showcase magnificent artworks," said Danny Flynn. "Triptych — a collaboration of great Australian designers — has involved a unique approach to development, with the project being sympathetic to and conscious of its location — the heart of Melbourne's unique arts centre. The building and lifestyle Triptych offers is deeply in tune with this outcome. Comfort, security, privacy and a sense of excellence are the culmination and at the top end, this is the very least one can expect."
Set to become one of the Melbourne's most unique and prestigious apartment addresses, a culmination of breathtaking architecture and interior design, Triptych will present the very best in luxury apartment living.