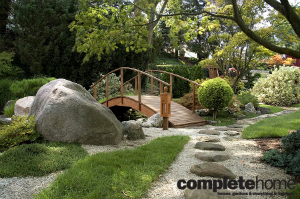 Bring the beauty of Bali into your own backyard

Frequent trips to Bali gave John and Coleen Biondich, the owners of Bali House & Garden, a great idea: why not create a Balinese haven in their own backyard? Full of enthusiasm, they immediately set about scouring Balinese villages to find products to purchase.
"Once it was completed, we were left to enjoy paradise every day of the year in our own home," said Coleen.
"Wondering what we could do for Bali after some unfortunate events that were not the fault of the Balinese, we decided we could bring Bali to everyone's backyard by importing products and opening a showroom in the Sydney suburb of Ingleburn," she explained.
Now, 20 months later, they have shipped in more than 30 containers of statues, water features, furniture, Balinese gazebos, wall tiles in marble and Palimanan (sandstone), pebbles, homewares, art, clothing, shoes and jewellery.
Eleven months ago, they built their own factory and showroom, complete with sleeping quarters and offices, in Batubulan, a stone-carving village 20 minutes from Kuta. The opening and cleansing ceremony was held on January 18 of this year.
Said Coleen: "We now have great quality control over our products and we've entered the international market. It has been a very exciting time for us.
"Starting a Balinese or tropical garden is as easy as buying a few decorative items and finding where they feel right," she continued.  "Everybody loves a water feature and we are constantly bringing in new designs. People will also love our alang alang gazebos, which are 10-15 degrees cooler in the summer and look wonderful next to a pool or over a spa."
To complete your new resort-style entertaining area, Bali House & Garden has a great range of indoor and outdoor furniture, all of which can be seen at their Ingleburn showroom, open seven days a week.
BALI HOUSE & GARDEN
Cnr Williamson and Stennet Roads, Ingleburn NSW 2565
(Showroom is one minute from the M5)
Email: sales@balihousegarden.com.au
Website: www.balihousegarden.com.au