To create a stunning outdoor living area, look to the timeless appeal of natural stone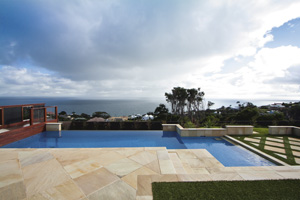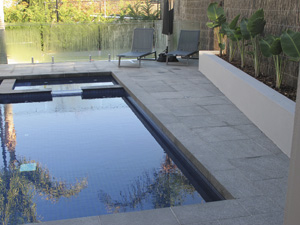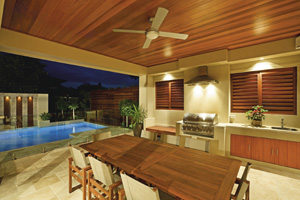 Outdoor living is an integral part of our modern lifestyles and takes many forms: fun days spent with the family around the swimming pool, dinner parties where friends are wined and dined in designer outdoor rooms, or lazy afternoons ensconced beneath the shade of a sail, a G&T in one hand and a good book in the other.
Whatever your lifestyle demands, a well-designed outdoor space is essential if you want to ensure all your entertaining needs are met. Of equal importance is choosing hardscaping materials that combine quality and longevity with stunning good looks.
Yarrabee & Castlemaine Stone Solutions offers an extensive range of beautiful natural stone paving, flooring and walling products to suit all design styles and applications.
One of their most popular products, Desert Sand sandstone, has been used to provide the perfect surround for the beautiful pool and outdoor living area (pictured left), designed and constructed by Geoff Burke Pools & Landscaping. Non-slip, salt-safe, easily maintained and oozing the beauty and character only natural stone provides, this sandstone is surprisingly inexpensive.
Offering a cooler look, Raven granite pavers have been used for the contemporary pool and pool house shown below. Note the "drop face" pool coping. Carved from a single piece of stone, these copers drop 100mm down the inside of the pool to create the image of a thick block of stone sitting on the water. Boasting a "flamed" surface finish, these textured products also provide impressive non-slip properties and are salt-safe.
Where elegance is called for, nothing beats stunning Turkish travertine. Shown above, Classic travertine has been laid in the French pattern, right to the water's edge. The tumbled finish softens the square-edged pool coping and gives the paving an appealing aged appearance. Designed by Justine Carlile Landscape Design, this outdoor space has it all — good looks and timeless appeal.