A living room is a place for entertaining, but can it affect a guest's comfort?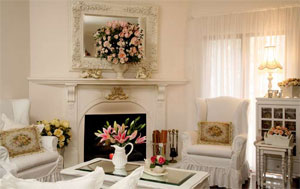 The living room is one of the most used areas in the family home. Whether it's functioning as a space for the family to retire to after dinner or an entertaining arena for visiting friends, it's almost always occupied with people you care about. When a room is in use as frequently as this, it's important to have a good, clean layout and base colour to work with. Most living rooms are painted in a neutral tone — this ensures curtains, lounges and accessories can be easily updated to give an entirely new look or feel to the room without having to go to the trouble of painting.
That's not to say that colours can't play a central feature in your living room. Having a feature tone such as red or orange can add a certain degree of warmth to a room that guests and family alike will respond well to. But how do you add a feature colour without going overboard? The answer is simple. Pick out a few key elements from your room that, when given a burst of colour, will not overwhelm. If you have neutral walls and carpet, cushions are a great place to start. No matter what your lounge colour or pattern, cushions can add interest and either brighten the couch or tone it down. Add lamps in another warm tone to enhance that feeling of cosy comfort in your room. To finish it all off, pick out some nice flowers from your garden or grab some fruit from your kitchen and place it on the coffee table just before your guests or family are due to arrive. What a simple way to introduce colour to your room.
However, what if down the track you tire of your feature colour and want to go back to basics for that clean look that will encourage a neutral feel? If it's accessories you have purchased, they can easily be replaced with inexpensive trinkets, such as some beige, silver or tan-toned lamps and cushions. More expensive furnishings and carpets and curtains can be more difficult to change. Consider buying more neutral shades that will stand the test of time when it comes to these major purchases.
If a new look is what you're after, creating a theme can also help foster a nice atmosphere in your living room. If your family and friends are more acquainted with a traditional country style, introducing a romantic theme to your living area can result in a place of beauty that will have them longing to visit again and again. It isn't hard to realise your living room's romantic potential; investing in some sheer, gossamer-like curtains can add a fairytale feel in a relatively inexpensive manner. If you have more money to spend, why not purchase a couch or chair with a floral or rose pattern to bring the garden inside your home? In fact, why stop with the chairs? Flowers make a great accessory to a living room. If you don't have the real deal available, add a bowl of potpourri to give that fantastic floral smell. As well as complementing the romantic theme, fresh flowers can show guests that you have gone to extra trouble to make their stay more pleasurable.
Sometimes making guests feel too special can make them uncomfortable, particularly if you see them often. When your living room has a lived-in look, it can often encourage friends and family to feel more open and relaxed. That's not to say that you need to leave your husband's dirty socks around! Create a comfortable feel by having a pile of magazines on your table — this can also be a great talking point. Photos and old letters or manuscripts are another way to give your living room a relaxed look.
When space is a major concern, adding a mirror can be the answer. Mirrors reflect space, creating an optical illusion so your living room's boundaries appear to extend much further than they really do. This is great for those who are working within the confines of a small room that needs an extra boost.
It's not hard to see that creating a living room ideal for entertaining is a fairly simple task. Simply choose an idea or theme that works for you and go for it. When you're comfortable and proud of your own living room, you know your friends and family will not only love it, too, but feel welcome in it. That's really all that counts!