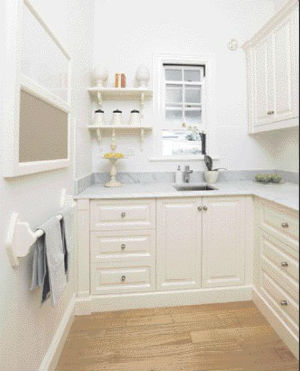 Elegance and functional power work together to deliver a kitchen fit for royalty. 
It is hard to believe that the predecessor of this delightful kitchen was outdated, loud and generally a waste of space. Today, the kitchen fits within its boundaries with understated elegance rather than overpowering dominance. The transformation of the area has not only delivered a superb kitchen, it has also freed up the living quarters, adding value and style to the entire home. With entertaining in mind, the clients wanted a space that was able to cater to large numbers while keeping with the classic colonial style of the residence. The modern country look is sleek, sophisticated and simply breathtaking.
Adjacent to the previous kitchen, a room was housing the hot water system as well as acting as a pantry and storage area. The new design incorporated the hot water system being moved outside and the space was changed into a butler's pantry complete with an additional sink and refrigerator. A cordon bleu dream! Now all the food prep can be done in this hideaway area, leaving the kitchen clutter-free in the busiest of times. The kitchen also overlooks the entertaining area around the pool. The large island bench now acts as a bar/ drinks serving area. Two wine fridges have also been installed on either side of the island bench. This is a simple idea that will have a huge impact when the kitchen is in the throes of entertaining large groups. No longer will the culinary mastermind be interrupted by the continual pouring and restoring of drinks. This is a truly inspirational space that is sure to be the envy of hosts and chefs alike.