A canny mix of coloured pebbles creates a convincing bushland-inspired garden.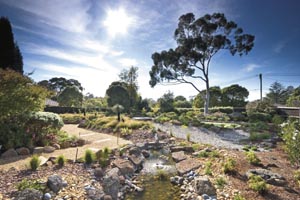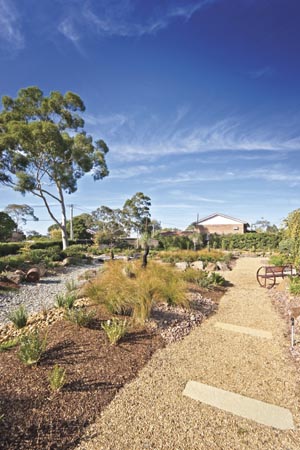 Pebble-strewn creek beds, gravel paths, feature rocks, native plants … this Melbourne garden looks as if it was transplanted from somewhere deep in the Australian bush.
Designed according to the principles of xeriscaping (a set of guidelines for creating water-conserving landscapes), This garden boasts a plethora of special features. Chief among them is a dry creek river bed which was built using pebbles and stones to give the appearance of flowing water.
Pebbles of various colours and sizes (ranging from 7mm up to 200mm) have been used to spectacular effect throughout the landscape. In some instances, the pebbles have replaced areas of lawn. In others they have been used as weed-suppressing, waterconserving mulch or for purely decorative purposes. in fact, the garden is the ultimate showcase for the use of pebbles in contemporary, water-wise garden design, which isn't all that surprising when you consider that it belongs to geoff iles, owner of DécoR Pebble.
Minimising water usage was at the top of geoff's list so he looked to the principles of xeriscape landscaping for guidance. This is an approach that encourages a commonsense, wellbalanced approach to garden planning and design, including choosing plants suited to the local growing conditions, the proper use of mulch and ensuring an efficient (or no) irrigation system. In keeping with the principles of xeriscaping, the groundcovers, shrubs and trees are mostly natives and include silver banksia (Banksia marginata), silky purple-flag (Patersonia sericea), tassel rush (Baloskion tetraphyllum), small crowea (Crowea exalta), wild rosemary (Dampiera rosmarinifolia), kidney weed (Dichondra repens), whiteroot (Pratia purpurascens), native fuchsia (Correa reflexa) and the grass tree (Xanthorrhoea).