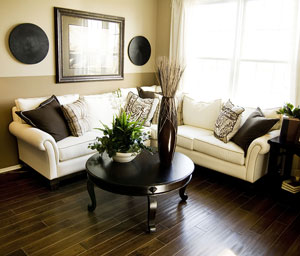 Antolini warms up an Italian villa using natural materials

This project was inspired by culture and shape. Set in the picturesque Italian town of Desenzano, the renovation of this two-storey dwelling was to be just as impressive as the view it offered. Described as a charming example of late 19th-century Italian architecture, the home was carefully restructured in line with the building's original style.
The renovators chose to enhance the exterior appearance, restoring the original rough stone walls, and to decorate the interior to highlight the sense of naturalness, essence and warmth typical of an elegant mountain chalet by resorting to natural materials, wood and soft colours. The return to exposed beams on the ceiling required walls of a material other than wood. The chosen material needed to convey a strong sense of naturalness and continuity with the parquet flooring and not look too heavy in appearance. With this in mind, the designers sought the help of Antolini, a leading Italian company specialising in the production of natural stone.
In addition to the world-famous Italian marble, Antolini offers over a thousand different materials from every corner of the globe. Its products have an undoubted charm due to their uniqueness, elegance and colour variations. The house renovators studied and assessed each material, choosing the unique characteristics of Teakwood, an unusual natural stone offered solely by Antolini, and Ivory Onyx, a precious type of onyx. Teakwood, used for the living room walls, is a stone from Pakistan featuring rare combinations of light and colour, ranging from yellow to white and gold. This special marble grants any setting a sense of the mystical power of the desert. Its warm colouring makes it a perfect match for the tones of wood used and the minimal lines and shapes of the furnishings.
The first floor is accessed by a glass and steel staircase, an extremely contemporary example of architectural design breaking with, but not overturning, the traditional style found also in the upstairs rooms. It is here that the bathroom has been placed. In this room, conceived as a genuine oasis of wellbeing, the parquet flooring is set against Ivory Onyx walls and a wooden ceiling. This type of stone, used for the shower area, stands out for its warm colouring and smooth surface. Elegantly soft yellow, white and light-grey streaks delicately cross the stone, overlapping to create an extraordinary scenographic effect. Also used behind the sink, the stone becomes almost a painting, symbolising the beauty and importance of nature. And indeed, its beauty blends and integrates perfectly with the uniqueness of Desenzano, a place that continues to appeal to millions of visitors worldwide.
Antolini Luigi & C
Tel +39 045 683 6611
Email al.spa@antolini.it
Website www.antolini.it
Photography Luca Morandini
Designer Sara Dalle Pezze