Versatile design and quality craftsmanship prove a winning combination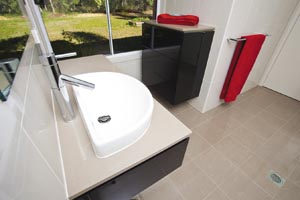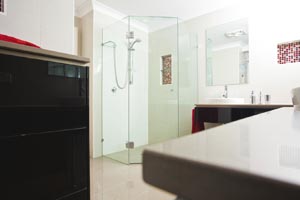 The owners desired a more user-friendly space but were not willing to forgo luxuries such as the large double basin.
The challenge for designers Maureen and Henri van Roden and the All Bathroom Gear team was to create a workable design that satisfied all the owners' requirements.
Henri and Maureen replaced the bulky double basin with separate his-and-hers vanity units and a deep drawer storage unit was fitted for towels and all the other bathroom necessities.
A huge hob-mounted spa that previously obstructed access to the large picture window was removed to open up the space and to give it a more light and airy atmosphere.
As the room now has more room to move in, the owners can get ready for work at the same time without getting in each other's way.
Maureen hand-selected a range of brightly coloured finishes and textures for added pizzazz, with niches to the shower and above the storage cupboard providing much visual interest.
From the large, frameless glass shower to the soft-touch drawers without handles, every last detail of this bathroom has been carefully considered.
The result is this stylish yet ultra-functional design that the owners can enjoy — together.
Fact File
 Black high-gloss two-pack with Smartstone Singita top
SHOWER Euroglass 10mm frameless glass
TAPWARE Millennium Cioso mixers and Methven Futura multi-function rail shower
TOILET Roca Dama Senso
BASINS Fowler Seido half in-set vessels
ACCESSORIES Avenir Tago double-towel rail, hand towel rails, toilet roll holder and robe hooks
HEATING IXL Sensations
MIRROR 900mm x 600mm frameless mirror
PAINT Dulux Royal Beige to doors and toilet walls
LIGHTING Low-voltage halogen downlights above mirrors
WALL TILES 600mm x 300mm neutral tone polished porcelain to ceiling height
FLOOR 300mm x 300mm polished porcelain tiles
FEATURE TILES Decoramics multi-colour glass mosaics to the backs of the niches
COST, approximately, for design, manufacture, installation, appliances, plumbing, electrical, carpentry, painting and tiling, $33,000