Contemporary in style, this bathroom fits right into the Art Deco-themed apartment.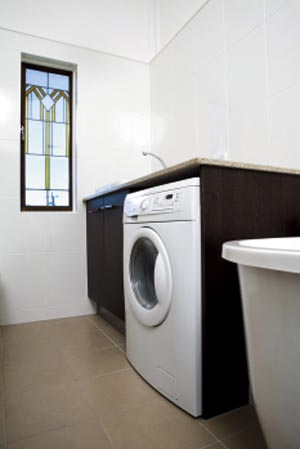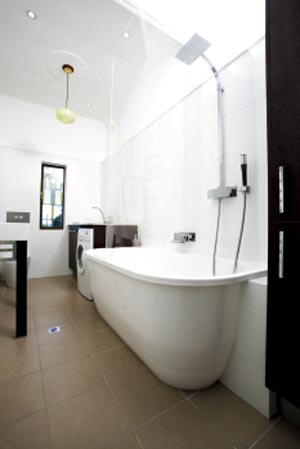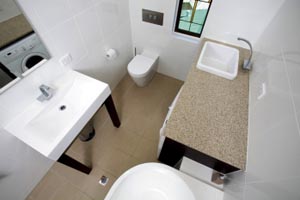 You would never guess that designers Henri and Maureen van Roden of All Bathroom Gear only had a limited amount of space to work with. Boasting all the modern conveniences of a luxurious bathroom, the space also incorporates handy washing facilities.
Long and narrow, the space required an innovative design to make it appear more open. Facing the west, the bathroom does not receive much natural light, so Henri and Maureen opted for a lightly toned palette to enhance the illusion of spaciousness. The stark white tiled walls reflect the small amount of light spilling through the gorgeous stained-glass window, keeping the room nice and cool on hot afternoons and making the bathroom simply sparkle.
A deep, semi-recessed bath with a unique curved shower screen greets bathroom guests, while the custom-made vanity features a modern-style basin and wenge timber legs, reminiscent of those apparent on washstands in the 1930s.
The laundry area has been hidden out of sight in the corner of the room, with a washing machine incorporated in a Laminex wenge cabinet and a Quantum Quartz Riverstone benchtop providing the perfect place to balance teetering piles of washing.
The owners have a very hectic schedule without much free time but now they can come home to unwind in their beautiful new bathroom.
FACT FILE
The bathroom was designed by Henri and Maureen van Roden and built by
ALL BATHROOM GEAR
BATH Victoria and Albert Nice quarry cast semi-freestanding/recessed
SHOWER Shower over bath with 10mm clear curved acrylic shower screen
TOILET Fowler Seido wall-faced pan, concealed cistern, Fowler Seido seat
VANITY Aurora Plan modern-style washstand with wenge timber legs
WALL CABINET 850mm x 500mm recessed wall cabinet with single hinged mirror door
LINEN CUPBOARD 2000mm high, two split doors in Laminex wenge
LAUNDRY CABINET Laminex wenge laminate with a Quantum Quartz Riverstone engineered stone top and fitted with an Aurora Capri china laundry tub. Cabinetry by Kitchens by Alliance Brisbane
TAPS All mixer tapware Dorf G type chrome plated to vanity basin, laundry, bath and shower
ACCESSORIES Avenir Future Design Artizen heated towel ladder and toilet roll holder
WALLS 400mm x 300mm plain white gloss tiles
FLOORS 300mm x 300mm tiles
LIGHTS Mirror light and recessed downlights
COST, approximately, for design, manufacture, demolition, installation, appliances, plumbing, electrical, tiling and painting, $40,000