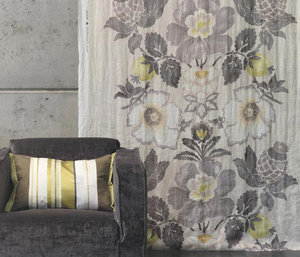 Richard Schutte got his start in the interior design industry early, working alongside his parents to build up their four interior decoration shops. "As is often the case in family-run businesses, Richard was encouraged to join in and lend a helping hand," says Ellen Steentjes of her husband. As his love and passion for fabric grew, and with the support of his wife, he decided it was time to start a wholesale business in interior textiles. Ellen's experience of growing up in a commercial-minded and industrious family, along with her stunning sense of style and a good knowledge for business, played an important role in complementing Richard's drive to establish their own unique company.
Together, this husband and wife team was a force to be reckoned with. In 1987, the couple began creating their own collection of fabrics under the brand, Chivasso. "Contemporary with warm, pure elements and straight lines," explains Ellen of their preferred design style. In the beginning the range was known for its exclusivity and was available only in the Netherlands. But with Richard and Ellen sharing a vision to expand and fast track the business, they sought new ways to launch into other key markets. Opening offi ces and a small warehouse in Zoetermeer in the Netherlands was the fi rst major step to begin managing the wholesale and product development side. Today the company, known for its whimsical line of fabrics and unique, romantic designs, spans the globe.
One career highlight for the dynamic duo can be traced back to 1995. Unveiling their own unique brand of fabrics to an international audience by taking part in a trade show in Frankfurt, Germany, proved a huge success. This launched their name and company onto the international stage. Almost instantly, Chivasso fabrics and wallpapers were available throughout Europe, South America, Australia and the Far East. While the high demand for the collection was great news for the couple, the business outgrew its headquarters and required more space. Richard and Ellen approached the JAB Anstoetz Group, a well-known and established interior fabrics company in Germany that was well equipped with a network of showrooms, international distributors and a large warehouse.
Before long, in 1999, JAB Anstoetz was a major shareholder in Chivasso, helping the brand to further expand internationally. Fast track to today and Richard and Ellen continue to have a huge involvement in the running of the business. You can often fi nd Richard sitting at the drawing board, collaborating with other designers on future fabric ranges or at the shopfront, where his energy and enthusiasm inspire all who visit. Ellen remains heavily involved with the collection strategy and the style and colour direction for both brands under the Chivasso banner — Carlucci di Chivasso and Chivasso.
"Working together as husband and wife has always worked well for us," she says. "We respect each other's opinion and complement each other's strengths and ideas." When asked what inspires their everyday work, Ellen enthusiastically explains, "Inspiration can be found in many diff erent and sometimes unexpected places. As both of us are fond of travelling, we get a lot of inspiration from our frequent overseas trips." They carefully watch trends in fashion, incorporating these into their collections. "And of course, art, travel and photography are a constant source of inspiration," she further adds. The couple's obsession with fabrics is a simple one to fi gure out. "Anything is possible with fabrics," explains Ellen. "You can make the most exciting, luxurious and soothing surroundings just by choosing diff erent textures, colours and patterns or fabrics. We love to mix and match to eventually create that warm, comforting and lovable home that every individual searches for." Chivasso is known for producing high-quality fabrics and continues to release two new collections each year.