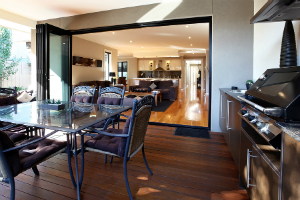 Contemporary garden design has taken outdoor entertaining to an exciting new level
Story: Karen Booth
The Australian passion for outdoor living has led to something of a design revolution, and nowhere is this more evident than in the emergence of the outdoor kitchen. Taking the 'outdoor room' concept to the next logical level, the outdoor kitchen has become a must-have for some.
The contemporary outdoor kitchen comes in two basic guises. One is a sleek, modular cooking centre complete with barbecue, side-burners, cupboards, drawer systems and benchtops. Some can even accommodate a bar fridge or electric wine chiller. The second is a custom-designed and built kitchen setup integrated into a permanent outdoor structure.
At the luxury end of the scale, this might include state-of-the-art appliances, storage cabinets, stone work surfaces, a sink and fridge — and all of it configured to allow the cook to interact with guests.
But sophisticated cooking facilities are only part of the equation. To create the kind of outdoor living and entertaining area you'll want to use all year round, you need to understand how you really want to use the space.
To be considered successful, any external space must be tailored to meet the needs of those using it. A well-designed outdoor living area is just that, designed. This means all elements have been carefully considered, from the purpose of the space to the appliances, furnishings, walling, paving and plant material that will bring the design to life.
Flexibility and functionality are the bywords of the modern outdoor entertainment area. It needs to take you from day to night, from season to season, and to be as capable of accommodating a family get-together as it is of providing a sense of sanctuary for those times when you want some peace and quiet.
Practical concerns, such as the right type of paving, must also be addressed. With the wide range of paving products now available, the opportunities for combining good looks with stain- and slip-resistance are seemingly endless. Paving also provides an opportunity to increase the sense of spaciousness (by using large-format pavers) or to define different zones.
Now more affordable, natural stone — in particular granite, limestone and sandstone — is proving popular for flooring. It's also a popular choice for wall cladding and feature panelling so you can create a co-ordinated look throughout your entertaining area.
The importance of shade should never be underestimated. A permanent structure — such as a vine-covered pergola or a thatch-topped pavilion — might be the answer. Or, perhaps, a shade sail, motorised retractable awning or cantilevered umbrella might be more appropriate.
And for those chilly evenings there is no shortage of heating options. Sleek gas-fuelled patio heaters, portable heaters that run on ethanol, braziers, wood-burning fireplaces and radiant strip heaters that can be ceiling- or wall-mounted — the choice is yours.
A water feature — whether big or small, freestanding or wall-mounted — is as much a must-have as the outdoor kitchen. Australians love water and they love their gardens. Put them together and you have an outdoor living and entertaining area providing year-round interest.
Water features can be tailored to suit any environment and complement any style of garden design. You can opt for a custom-designed 'water sculpture', a water feature that is integrated into the actual design of the garden (such as a water wall incorporated into a boundary structure or a simulated creek bed) or an 'off-the-shelf' unit — just plug in and 'play'.
With an eye on water conservation, many water features are now designed to minimise or eliminate splashing, and there are more companies specialising in units that recirculate water to eliminate waste.
Even though many Australians have less outdoor space to work with today, most still want a pool. This has led to a surge in demand for small pools, in particular lap pools. Whether stretching the full width of the back fence or gliding down the side of the house, the lap pool can be used for exercise or for cooling down on hot summer's day. It can even assume the guise of a reflecting pond when not in use. Just place a sheer-descent waterfall at one end and you have yourself a rather spectacular water feature you can enjoy while floating about in the pool or lazing beside it.
Plunge pools are another great idea for when space is limited and spas can be a lot of fun when shared with good friends.
Technology is playing an increasingly vital role in the contemporary outdoor entertainment area — first in the form of ambient and task lighting, second in the form of home theatre capabilities. Now you can enjoy a DVD or watch your favourite show on either a wall-mounted weatherproof outdoor television or a pull-down cinema screen. You can also link your outdoor sound system to your internal setup so you can relax to your favourite music.
Advances in smart wiring have made all of this possible. You can automate everything from lighting, water features, sound systems and projectors to ceiling fans, garden gates, spa heating and security systems — the ultimate in convenience.
And finally, don't forget those vital finishing touches that give your outdoor room all the style and flair of the most fastidiously decorated interior living room. From the outdoor furniture you choose to how you accessorise, by selecting the right decorative flourishes you will give your outdoor entertaining area all the appeal it needs to become the new social hub of your home.