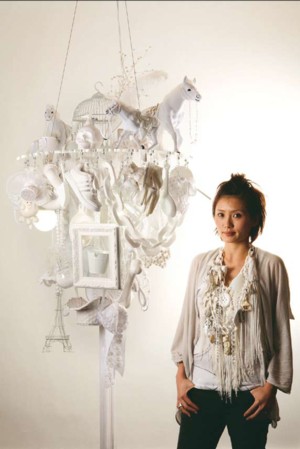 Dramatic, unique and intriguing are just a few words that describe Winnie's style. After designing her "Black" and "White" chandelier for UK design house, Innermost, she's been the toast of the town here and overseas.
What inspires your lighting creations?
I am a jewellery designer and it is my jewellery that inspired me to create a chandelier with the same concept. I take inspiration from everyday objects, collecting and categorising them in different colours and tones to use in my jewellery and lighting designs. My collection then becomes the material bank that I work with and I like to embellish and co-ordinate selections of these objects to create my designs. I believe that when objects are co-ordinated in a uniform colour, people will pay more attention to what the objects are and would appreciate their details more.
What is your background?
I graduated from Central Saint Martins in Fashion Communication and Promotion. In London I learnt the skill of silver-smithing from London-based jewellery designer Lara Bohinc. While in my native Hong Kong, which is also where I am now based, I have worked as a stylist for singer/actress Gigi Leung, Miriam Yeung and also assisted photographer Wing Shya. In the past I have also participated in a spa interior decoration project where I designed fashion graphics, shop installations and have styled for photo shoots. I was also invited by the Japanese toy company, Medicom, to design a 100 per cent Bearbrick for charity purposes in 2008. I also have an accessories brand under my name where I create tailor-made necklaces, brooches and chapeaux.
For more information about Winnie Lui, visit www.innermost.co.uk or contact Optique, the Australian lighting company that distributes Innermost products, on 07 3386 1700 or visit www.optique.com.au
Optique director, Fiona Press, tells Luxury Home Design why the company is proud to stock Winnie Lui's lighting designs.
What is Optique?
We are a design-based lighting company that specialises in lighting design, solutions and supply. We market both quality Australian and European lighting products and accessories and have a strong commitment to quality and design. We also strive to bring the latest and most innovative product to our clients. Our mission is to maintain a vision of our achievements and to continue to serve and support the Australian lighting industry.
Where did the name Optique originate from?
The name Optique came about when Paul Penrose, founder and managing director, wanted to find a blend of the European feel with the real meaning of light. With light having a major impact on the optical sense, he blended the French name associated with this sense and thus, Optique Lighting was born.
Founder and designer of UK design house Innermost, Steve Jones, discusses current trends.
How have lighting trends changed over the years?
We see a lot of demand for sculptural pieces and those that are real talking points in a room. Lighting is something people have begun thinking more about in the past 10 to 15 years and is an area of the home where people like to be distinctive and create a talking point. Innermost has always searched for materials and processes that are different to the usual associations people have with lampshades, and this draws a lot of customers to our ranges. There is also definitely a move toward gentler, diffused light and so many of our lampshades have diffusers even on the simplest of designs. It really adds value and lifts a room.
Do you design any environmentally friendly lights?
Since 1999, Innermost has been involved with designing fittings that will only work with lowenergy bulbs. We reasoned early on that the new bulbs call for a different approach as the light is different. We saw the advent of CFLs as an opportunity and pieces such as our Kaboom, Bigoli, Asteroid, Sq2Rd and other lights were developed solely to work with low-energy fittings. While we are not a company promoting green issues in our fittings, we continue to make sensible choices with materials and processes in order to reduce or remove environmental issues when we identify them. For instance, we recently made changes to all our packaging that will take effect in the next few months after attending a seminar about the recycling of packaging materials. We discovered that one of the things we did was not ideal and that an alternative existed. We switched to the new method and swallowed the cost rather than passing it on to our customers.