Gourmet Safaris' Maeve O'Meara shares her deep passion for food, produce and people.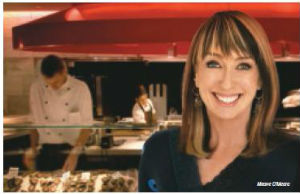 By Melanie Gardener
For Maeve O'Meara, TV presenter, author, journalist and food safari guide, cooking was always a part of her life. From an early age she cooked with her grandmother and this introduced her to the excitement and joy that cooking can bring. "I've always loved cooking and hanging out in kitchens," she says. "From an early age they were places full of wonderful smells and delicious discoveries." Maeve has taken this passion for food and produce, coupled with her experience as a journalist, and made an extremely fulfilling and interesting career. "I loved every minute of working in newspapers and for current affairs television," she tells me. "But my great passion has always been food — and exotic food — so the two (food and journalism) blended together around the time I had children."
By the time Maeve's children arrived, she had been working as a journalist for many years and had co-written a number of eating guides to Sydney and Melbourne, as well as embarked on the first of the much-loved Food Lovers' Guide to Australia series. She says it was the children's arrival that helped her change direction. "It's such a massive leap into the unknown that somehow you're brave enough to dive into a new career at the same time," she laughs.
The idea for the Gourmet Safaris concept came about through Maeve's Mother's Group. They had been hearing her speak of exotic foods and locations in and around Sydney and asked her to take them to a Lebanese restaurant she had mentioned during a radio program. It was this idea of sharing her knowledge and experience that eventually morphed into her very successful Gourmet Safaris business. Maeve recalls that first visit: "We crossed town into what I call the 'flat bread' suburbs and we parked in the dark car park behind the restaurant, then walked up the stairs from a Sydney street straight into a glorious, colourful, exotic Beirut. Here was a room full of almond-eyed women and moustachioed men puffing on hookah pipes — it was such a leap for my girlfriends and I realised they never would have made it to this place without a guide. We ordered a huge banquet of interesting mezze dishes; my friend Fouad (the chef) came out to explain what we were eating … and a great idea was born." In Maeve's eyes, it's not only the food or ingredients that are so interesting.
Her fascination is also with the people who put so much love and care into the way they cook, prepare and eat the dishes. She feels we are blessed in Australia to have so many people come to our country who are ready and willing to share their knowledge. "Without those brave souls who have come and slowly established themselves, we'd still be eating overcooked vegies and grey lamb," she jokes.
There's nothing Maeve loves more than a foray behind the scenes, whether it's at a local restaurant or within someone's home — she credits her contacts as "national treasures" who use food to link themselves with their ancestors and their culture to tell great stories and make connections. If you ask Maeve to choose a favourite cuisine, she will find it difficult to answer, such is the length and breadth of her experience. "I've eaten my way around the world and sampled so many fabulous tastes over many years of delicious research," she explains. "I adore Lebanese food for its freshness — my partner Toufic comes from a food-loving family and his mother's tabouli takes me closer to God! But my favourite cuisine is Malaysian," she finally concedes. "I just love the spiciness and the different textures of this food. Every atom in my body says 'thank you' after a Malaysian feast." Maeve and her family enjoy a range of cuisines and she's pleased her children have grown up with an accepting palate.
Her favourite task is to put together a selection of four or five dishes for the family then they all sit down together to enjoy the meal and each other's company. A very different scenario to the entertaining Maeve used to undertake, as she recalls: "I remember cooking for dinner parties years ago that would take a day to plan, another to shop and prep, and then I'd be in the kitchen most of the night. Madness!" As part of her Food Safari programs on SBS, Maeve is lucky enough to be invited into many homes and kitchens and she is well aware that this is a rare treat. "It's such an honour to be a part of a family and to see treasured recipes come together," she says. "We have had some great fun moments — laughter and even tears." Look out for more scheduled Food Safari programs on SBS as well as the French Food Safari cookbook, which is due on sale in 2012. In addition, Maeve will be kept busy with new Gourmet Safari tours to plan including new overseas safari destinations in such gorgeous locations as Corsica and Sardinia, as well as Thailand.
DETAILS
Gourmet Safaris Website: www.gourmetsafaris.com.au