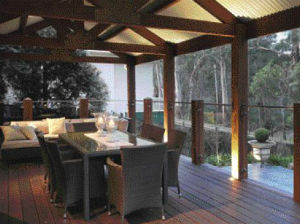 A new outdoor room designed to complement the home and its natural surrounds
Of contemporary rustic design, this outdoo r room fits hand in glove with its bushland surrounds, providing the owners with the picture-perfect venue for outdoor entertaining.
As the house is situated on a sloping block, the owners wanted functional, level spaces so their children could safely play. They also wanted their old verandah replaced with an outdoor room sympathetic to the bush reserve that abuts the property. To achieve this, they turned to Nathan Burkett Landscape Design and Construction.
"The garden, which was originally sloping down toward the rear boundary, has been divided into two levels retained by large basalt boulders," says designer Nathan Burkett. "We began by cutting into the lower level in order to provide a home for the children's new trampoline and used the fill generated from the lower level to extend the entertaining and paved living area closer to the house.
"The basalt boulders, which have been placed to mimic natural-looking rocky outcrops, provide a cost-effective retaining measure which blends into the site's open creek backdrop. The use of timber in the outdoor room also complements the site's surrounds."
Nathan is particularly pleased with the blend of materials used: stainless steel, glass, old rustic timbers, granite paving and large rocks. "Imperative to the design was the use of large turpentine timbers sourced and transported to Melbourne from a Sydney wharf," he explains. "These timbers form the structure behind the outdoor room while framing the picturesque backdrop of the creek and bushland reserve."
For the flooring of the outdoor room, Nathan opted for hardy merbau decking. To ensure an uninterrupted view, a frameless glass balustrade was installed. This was provided by glass fencing specialist Haven Fencing and adds a contemporary but unobtrusive touch to the project.
"We also constructed the decking to allow for a 10,000-litre water bladder to be placed discreetly underneath which provides for the garden's irrigation needs," he adds.
The planting is a blend of natives and exotics. Rockery plants such as Festuca glauca, Dietes and Convolvulus cneorum help soften the rock faces while Clivia miniata, Pyrus calleryana and Magnolia "Little Gem" bring strong colours and year-round interest to the garden.
For a dash of formality, there are large bell-shaped pots which look fantastic when illuminated in the evening. All in all, this is a project that deftly blends a mix of styles and materials to ensure the outdoor room and garden areas seamlessly integrate with both the home and the wider bushland setting.
Project details
Landscape design and construction by Nathan Burkett Landscape Design and Construction Phone (03) 9015 7791 Mobile 0411 304 641 Email info@nathanburkett.com.au
Website www.nathanburkett.com.au Fencing supplied by Haven Fencing Phone 1300 888 780 Photography by Andrew Ashton