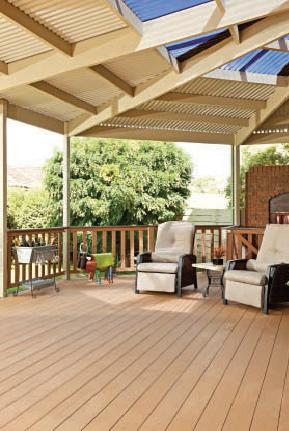 There are myriad alternatives to using milled timber for your decking project. Many of them have the look of timber and the warm, natural appeal of hardwood, but don't bring with them the same ongoing maintenance requirements. Here we explore the four main alternatives to traditional timber decking.
By Karen Booth
Eco-friendly bamboo
Bamboo decking is available in a selection of colours, from pale blond to dark coffee, and as solid decking boards or tiles. Because bamboo decking is made from bonded layers of shrink-resistant, rot-proof bamboo, it is very strong and therefore rated as a "hard" floor. It's easy to install and can be laid over concrete or hardwood or directly onto joists.
The House of Bamboo range of strand-woven, carbonised decking, for example, is very dense and extremely strong. Treated with insect retardants and impregnated with natural decking oil, the boards have a grooved surface, which makes them non-slip.
For a natural look and timeless appeal, there's nothing quite like the warmth and durability of bamboo decking. And those with an eye to sustainability can use bamboo secure in the knowledge that bamboo is a sustainable, fast-growing, self-regenerating grass.
Engineered wood
You might like to try an engineered solid timber decking product which is manufactured from timber off-cuts that may otherwise go to waste. You can find ranges made from unwanted merbau off-cuts or jarrah wood waste and shorts which are finger-jointed and then laminated to form one solid piece. Each engineered board is long, straight and prefinished with an oil coating, eliminating the preparation involved in building a deck from milled timber.
Because each decking board is engineered, the problem of random or short lengths is eliminated. Also, each board is straight and free of defects. For a coordinated look on a deck, the boards can be used for the construction of screens and storage boxes.
Wood plastic composite
Wood plastic composite (WPC) decking boards are typically made from ground wood waste and recycled plastic. The product is rot- and termite-resistant, won't splinter or warp (as long as it is properly installed) and is slip-resistant, making it ideal for use around pools and spas.
Some composite decking systems use a concealed clip system that ensures no nails or screws can be seen on the deck surface, resulting in a clean look that complements its no-splinter, no-crack qualities.
Minimal maintenance is, for many, the greatest appeal of WPC decking — it doesn't need to be stained, painted or oiled. Unlike real timber it isn't a load-bearing product so it can't be used for joists, but it can be used to create screens around a deck or in other parts of the garden, to create railings or clad walls. There can be colour variations from batch to batch so it's best to ensure your new deck will use boards from the same batch.
Metal decking
Steel decking is yet another option, as is aluminium decking. While steel, a sturdy, non-combustible choice, has been around for years, aluminium decking is beginning to grow in popularity. Available in a timber-look finish or power-coated colour, aluminium decking has the advantage of being termite-resistant. Add to this the fact that it won't splinter, rot or crack like timber and it doesn't need to be painted or stained, and you have a low-maintenance decking alternative.

•Aluminium decking is durable and easy to clean and it is also suitable to bushfire-prone areas as aluminium is non-combustable. Aluminium may dent if not treated  properly and may attract dirt, though given its ease of maintenance, this may not be a concern. There are also new easy-to-install aluminium decking products