Checkout the latest and greatest developments in blinds, shutters, awnings and louvers.
1.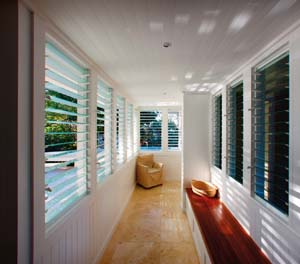 2.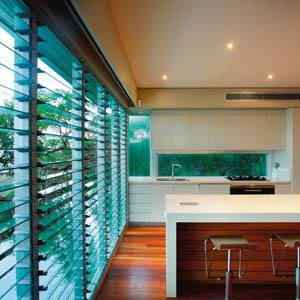 Blinds and shutters probably won't be the most exciting thing you'll have to consider during your home renovations, but they can be necessary.  If the choice between blinds, shutters, awnings or louvres is starting to make you feel a little overwhelmed, check out some of the styles that have been popping up on our radar.
1. It used to be that when choosing a shutter design, blocking out sunlight also meant restricting your view. But not anymore! The Evo Awnings range from Luxaflex stops the heat and glare from getting into your home without shutting you off from the outside world.  And they've recently released the Evo Pilot, which has a sliding arm that can change the pivot point of the awning to allow fresh air to flow through.
2. Meanwhile, Luxaflex's Duette range can be lowered from the top of the window towards the bottom, filling your room with natural light while also giving you a bit of privacy. It's ideal for your bathroom.
3. Luxaflex's Silhouette range is comprised of fabric vanes suspended horizontally in between two sheer fabric facings. You adjust the vanes to control the amount of light coming in.  Sounds pretty basic, right? The difference here is in the 'S' angle of the vane structure, which softens the light as it comes in. Fancy.
4. An oldie, but a goodie, Verosol's Velrome Vacuum technology was first released back in 1965 and it still used in all of their collections. It makes controlling the amount of light and warmth in your rooms a snap. 
5. With no fixed panes, Breezway's Altair louvre windows open twice as wide as regular windows, maximising ventilation. They can easily be manipulated to make the most of breeze, regardless of which way it's blowing; they can also be left open in the rain and seal tightly to protect from harsh winds and intense heat. 
Not only will these blinds and shutters make it easy for you to either shut light out or let it stream in, they will also improve the overall energy efficiency of your home. And they're stylish to boot. Click here to check out Luxaflex's range in a little bit more detail, here for Verosol's and here for Breezway's.
3.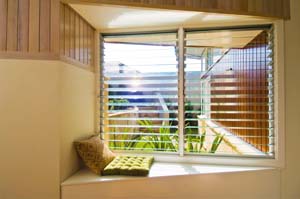 4.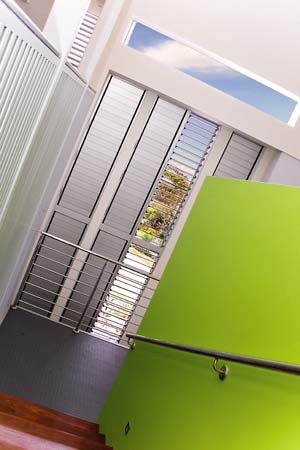 5.