Customise your poolside with Pool-Water Products and turn it into an inspiring yet functional visual highlight with the range of pool and spa products available for today's savvy homeowners.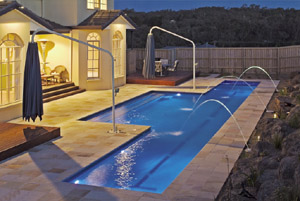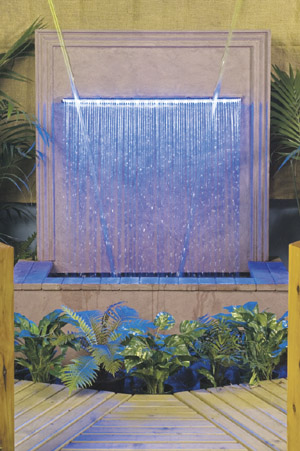 "A pool is really just a hole in the ground with water in it, until you bring it to life with water features and lights," says Rob Portbury from Pool-Water Products. Enrich your poolside with a sparkling light-filled water feature in shining blues, gorgeous greens, radiant reds, or a tantalising combination.
Pictured, the LED-lit Sheer Rain waterfall and the eye-catching Laminar water feature are part of the LED and fibreoptic lighting range. Becoming an increasingly popular alternative, LED lighting offers an energy-efficient lighting alternative to traditional products. The LED Light Bar has the advantages of low heat output, low energy usage, extra-long life and colour range. It runs on extra-low voltage 12-volt DC and several lights can be connected to one power source and they are safe to use in any application.
Looking behind the scenes, you need an efficient pool cleaning system to ensure your pool functions properly. To this end, Pool-Water Products supplies Paramount in-floor cleaning systems because they practically take care of themselves. "Home owners are looking for low-maintenance solutions in their homes and we provide that to them," says Rob.
Another exciting timesaver is the remarkable Aqualink RS One-Touch Control System. The versatile Aqualink allows you to control your entire pool system at the touch of a button inside the home or from a spa-side remote. The Aqualink system can be coupled with most home automation systems and be programmed to activate your spa, waterfalls, cleaner, chlorine generators and more. As you can see, it has never been easier to own and maintain your beautiful pool and spa.
Pool-Water Products was founded in 1974 by Rob and Barbara Portbury as a pool design and council permit application service for pool builders. By 1976, the business had grown to a point where it had to move to new premises in Mitcham, Victoria. Here, the Portburys also began retailing pool chemicals, accessories and equipment. In 1981, a wholesale division was opened in Vermont, Victoria, and in 1983 the retail division was sold.
Today, the company acts solely as a wholesale outlet for both locally manufactured and imported goods within the pool industry. It is also the sole Australian representative for a number of imported lines. The company focuses on high-quality specialty products, especially high-technology equipment. This has led to engaging in some product development and manufacturing at its premises in Vermont.
Products include the Laminar fountain, the Aqualink electronic range of pool and spa control systems, the PCC2000 in-built debris management system, the Sheer Descent waterfall range and Aqua Accent water features and Crystal Fountains. Manufactured products include the Spa-Link basic pool-to-spa controller and the Gemini Switch — a safe switching device for all kinds of wet-area applications.
Pool-Water Products now employs nine people to take care of manufacturing, sales, technical support, and all the other tasks required to keep a busy company running.