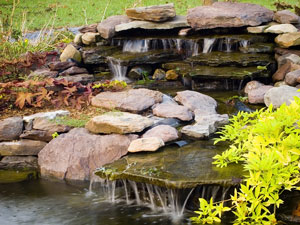 This Perth display home boasts a practical and attractive water-wise landscape design
Story: Diane Norris
Photos: Ron Tan
With water restrictions in full swing in many parts of the country, more and more homeowners are realising that a water-wise garden is a good investment — not just a necessity. What is even more encouraging is that it is now becoming commonplace for property developers to provide water-conscious landscaping and gardening solutions as part of their overall packages — a trend reflected in the landscape design of display homes such as the one shown here.
For this Don Russell display home, Blake Willis, a landscape architect with the Perth-based firm Tim Davies Landscaping has designed a small water-conscious garden. Says Blake: "Most people think of water-wise gardens as being boring. This display home shows that they don't have to be."
There are several elements in this compact garden which are keys to its water efficiency. The first thing that usually announces a dry spell is a brown, dead-looking lawn, so Blake has chosen a Soft Leaf Buffalo, which he says can be 'trained' to use less water. To achieve this, water crystals or granulated additives, both readily available from hardware stores or nurseries, can be mixed into the soil before turf is laid or applied to already planted and established grassed areas. By using soil improvers hydrophobic soil (which is soil that has become water-repellent and does not take up or absorb water) — can be addressed.
Blake likens lawn areas to the carpet in your home — limit it to where it wears well and to where you need it. He also urges people to regard grass as a plant like any other, not just as a (supposedly) easy cover-up for garden areas you may feel need to be 'hidden'.
Blake has chosen robust drought-tolerant plants, such as Agave attenuate (spineless agave), Dracaena marginata (red-edged dragon tree), Dianella 'Little Jess' (a hardy plant with a clumping form and bluish-purple flowers in spring), Tulbaghia violacea (society garlic) and feature trees like Liquidambar styraciflua (liquidambar) and Fraxinus raywoodii (claret ash). These have been mass planted and grouped together to achieve a sculptural effect, vibrant colouring and an interesting mix of textures. By bunching plants together from the outset, your landscape will become more established-looking a lot quicker, in the process ensuring ground coverage to help keep moisture in the soil.
Other water-wise features include a sub-surface drip-line irrigation system which is suitable for use under turf, under garden mulch, on sloping ground or in high wind areas. The system allows water to seep slowly underground through little holes in the pipe making it very water efficient as it uses a mere 40 per cent of the water normally required by an overhead or spray watering system.
Mulching of the garden has been done with gravel instead of the often-used organic mulches. Blake likes gravel because it reduces long-term maintenance and he finds it extremely effective in reducing moisture evaporation. Also, from an aesthetic point of view, the gravel comes in a variety of textures and colours which can be co-ordinated to generate an interesting visual effect — especially in small areas. For instance, the charcoal gravels project the lighter greeny-grey forms of the plants, while the lighter silver-grey gravel, placed between dark-coloured steppers, reinforces the striking visual composition.
At the entrance to the home you are greeted by an interesting water feature — an aquaduct — which extends from the natural stone wall and transports a stream of water to an underground water storage tank hidden below a bed of glossy dark pebbles. This water feature gives a pleasant trickling sound and visual movement in the garden while keeping water evaporation to a minimum. The concealed water tank is protected from light and wind and a pump provides a constant source of re-circulated water.
The paved walkways are cross-drained allowing water to be captured and re-directed to plants in the garden beds. Before the cobbles were put in place, a geotextile (synthetic-fibre-woven matting) was laid to prevent a build-up of sand or soil blocking or polluting this artificial water table.
A colourful alternative to a water feature has been designed for the entertainment area at the rear of the house. In this instance, Blake advised against the 'essential' water feature because of evaporation issues, instead choosing a simple two-toned wall panel, along with bench seating, to provide a practical yet enticing alfresco area.