These contemporary staircases are stylish, sophisticated and sexy
Staircases are one of the most important elements of a multi-storey home — not just architecturally but also when it comes to interior design. An aesthetically-pleasing staircase will not only impress friends and family but will work well with any other elements of your home's design. The following is S&A's impressive range of modern staircases: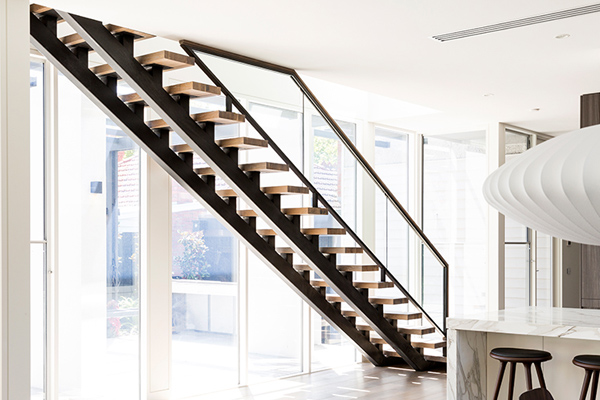 Modern Stair 37
The Modern Stair 37 features chunky (66mm) American Oak treads, primed black steel strings and a glass balustrade. Designed specifically for a young family, the modern staircase sits comfortably in this spacious Melbourne home, dispersing and diffusing light through the living room with open rise and black steel carriage for contrast. Rounding out the tidy architecrual design is glass balustrade (10mm toughened glass) tucked neatly inside an American Oak handrail.
Modern Stair 36
Simple and stunning, this open straight flight stair compliments this Camberwell home perfectly. 42mm Victorian Ash treads and closed 42mm Victorian Ash stringers have been stained to match the timber framework around the large adjacent windows while 10mm clear glass balustrade has been rebated into the outer stringer and is surrounded by 70 x 45mm HR07 handrail which drops down to the floor at the foot of the stair. Surrounding this void is plaster walls which have a 70 x 45mm capping fixed to the top.
Modern Stair 35
This is a striking staircase that doesn't hold back on the wow factor. The first flight is constructed out of 90mm thick American Oak boxed treads, fixed to steel supports coming out from the wall to create a cantilevered look.
On the first flight 12mm clear toughened glass balustrade is used, fixed to the edge of the treads with stainless steel patch fittings, while the handrail is a 50mm x 10mm stainless steel flat bar side mounted to the balustrade, resulting in clean slick lines.
When you hit the landing the stair turns into a closed flight stair between walls taking you up to the next floor. The most unique and, arguably, impressive feature is the LED lights rebated into grooves on the underside of each tread.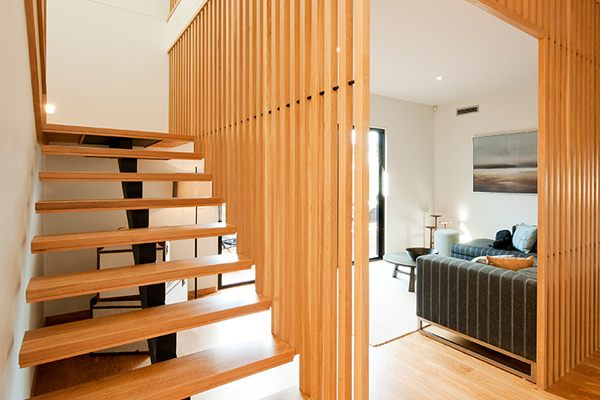 Modern Stair 34
This magnificent American Oak timber staircase's first flight is made of 42mm treads sitting on top of a 150x100mm steel centre carriage, while the second flight is a closed stair with closed strings and butted treads & risers.
The handrail used is 70x45mm HR07 which mitres at all changes of pitch and direction and drops down to the landing while the main feature of the Modern Stair 34 is 42x42mm TB07 timber balustrade and feature screen. The first flight's screen is fixed flush to treads, lining up exactly with the first floor balusters directly above, while the balusters on the second flight have also been positioned to line up precisely with the screen. Ensuring the screen balusters remain aligned and evenly spaced is a 16mm black steel spreader bar.
For more information
Written by Ben Nour