This is what we all would like to come home to: a beautiful home on a large block. Add in views of tree tops and cap it all off with a stunning outdoor living and entertaining area — what more could you ask for?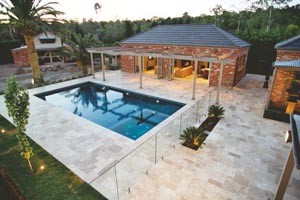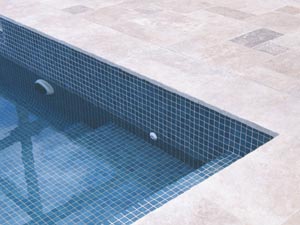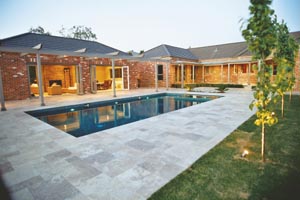 The pool, built by Peninsula Pool Contractors, is the focal point of this luxury home's alfresco area. Ensuring simple, clean lines and a quality finish were the main objectives and the homeowners couldn't be more delighted with the end result.
The overall project, which involved construction of the house, the pool house, the landscaping and the vast expanse of paving, was undertaken by Harding Building Developments whose attention to detail was exceptional and far exceeded expectations.
A project of this quality demanded a quality paving product and the homeowners spent what seemed like an eternity looking for a paver that had all the essential characteristics. They wanted something that would be durable and easy to maintain, offer resistance to salt and chemical attack, deliver good non-slip properties when wet, be cost-effective and, of course, it had to be nothing short of beautiful.
To achieve their goal, they turned to Yarrabee & Castlemaine Stone Solutions. company, which has spent more than 30 years sourcing beautiful stone from all parts of the globe, had no hesitation in recommending their travertine range. Travertine, a stone of ageless beauty, met the homeowners' every criteria and the Noce colour perfectly complemented the pool tile colour and the surrounding structures.
Yarrabee & Castlemaine Stone Solutions has an impressive selection of natural stone products for paving, flooring and walling and a team of well-trained staff members keen to help you make the right selection. If you would like to get a clear picture of what a finished job would look like, you can visit the showroom and see various types of stone laid in fully grouted and sealed displays. Alternatively, you can visit the company's website where you will find an assortment of photos and other information about the wonders of natural stone.
Umco