Enjoying a resort experience at home is something we all dream of.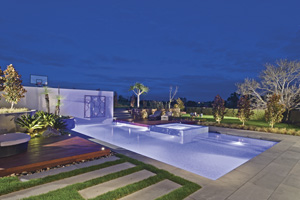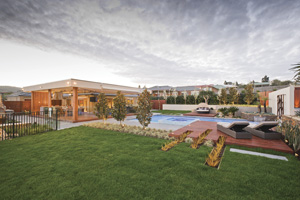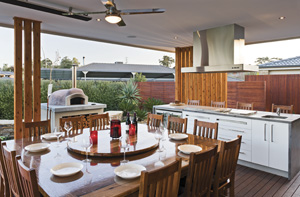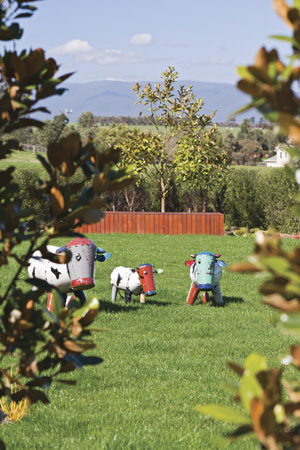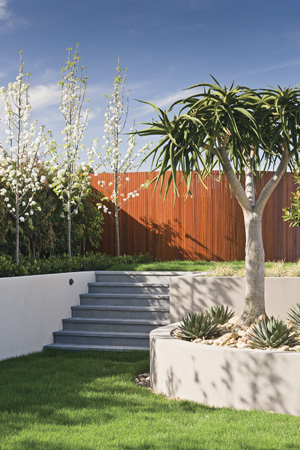 Thanks to the design ingenuity of Steve Taylor and the team at Creative Outdoor Solutions, this family in Yarra Glen, a suburb nestled in Victoria's Yarra Valley, doesn't have to dream any longer.
"The brief from the owners was to create the ultimate outdoor resort-style space," says Steve. "They wanted it to be an entertainer's delight on every level and a space that adults and children could enjoy all year round."
While the owners were happy to leave the design to Steve, they were clear about the inclusions they wanted. On their must-have list was an outdoor kitchen and pizza oven, a family-sized swimming pool and spa, a hard court, an outdoor fire pit and a large, level lawn.
"They also wanted to experience all the luxuries you would expect inside a home, so a home theatre, surround sound and heating to the outdoor room were essential," adds Steve.
Describing the design as "Australian resort-style with strong, clean geometric lines", Steve says the large pool and spa function as the "spine of the property". But while the pool, with its frameless glass fencing expertly supplied and installed by Frameless Impressions acts as a magnet in the summer months, it is the outdoor room that flows from the rear of the home that is the year-round social hub.
The focal point of this covered outdoor entertaining area is a custom-built kitchen with an under-bench bar fridge and sink. Next to the outdoor kitchen sits is a custom-made table, fashioned from recycled timber, which claims a picture-perfect view of the plasma TV. Enhancing the outdoor entertaining experience, a wood-fired pizza oven was constructed on one side of the outdoor room while an open-air fire pit with a stacked stone bench beckons nearby.
For comfort and convenience, there is an outdoor shower and bathroom. These are hidden from view in a portion of the garden boasting ornamental pears and fragrant gardenias. Also concealed from view on the upper rear level, behind a curved partition of merbau slats and feature pool wall, is a basketball court, a built-in trampoline, water tanks (48,000-litre capacity) and a garden shed.
Steve focussed on low-water-usage plants including two feature aloe trees, each underplanted with agaves and echeveria, along with grass trees, cycads, magnolias, bird of paradise, jacarandas, honey locust, lomandra and variegated liriope. Similar care was taken with the selection of the hard landscaping materials, from the bluestone paving to the Beaver stone from Better Exteriors used for the walling.
While good design and project management is essential for a successful outcome, construction excellence in equally important. Credit for the construction of this impressive landscape goes to Exquisite Gardens; for the alfresco area, Kyne Constructions; and for the pool and spa, Aloha Pools.