Ever wanted to step into your bathroom and be transported to paradise? Anything is possible when great design is at hand.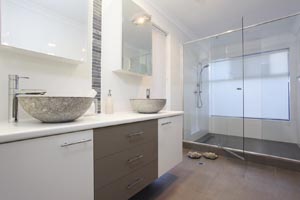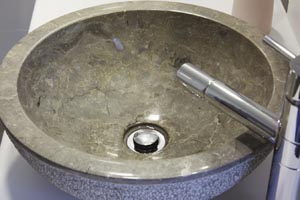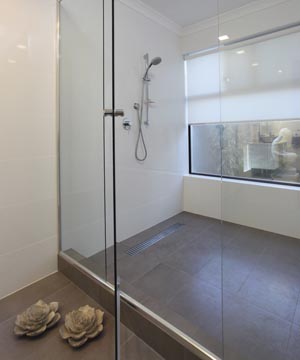 It's fair to say that this space will wow all who enter. The owners were specific with their needs; they wanted to create a bathroom that was not only magnificent but also gave them a sense of paradise. It is hard to imagine that this area was once a muddle of clutter and 70s-style fixtures, including a sage-green spa!
The transformation is one of pure comfort and elegance. Installing large marble basins on the vanity area enhances the room's indulgent appeal and also allows the space to connect with the outdoor design.
The vast shower area is cleverly tucked away behind glass. Being completely enclosed with a frameless screen and pivot door means less mess and more shower area. The shower area and large window also frame the courtyard, so it was important the room flowed with the general feel of the outdoors. Contrast tiling on the walls and floor gives a sense of space while the use of darker coloured feature tiles grounds the bathroom. Floor-to-ceiling tiles are not only easy to clean and extremely functional but also provide the modern, sleek aspect that makes this bathroom stand out.
Simple and stunning design aspects, including the stone feature splitting the two mirrors, complement the overall feel of the room. The mirrors also double as storage, meaning all those pesky bathroom knick-knacks can now be put away with ease. The large drawers and cupboards allow for ample storage of larger items and the contrasting brown-and-white cabinetry enhances the marble basins and rapture of the area.
Fact file
VANITY 1700mm x 500mm wall-hung in matt-white, centre drawers in stipple seal, soft white laminate top, Post N Rail handles
SHOWER Very large shower room with a frameless screen, pivot door and long shower channel grate
BASIN Two marble bruschada grey vessel basins
TOILET Roca Dama Senso back-to-wall toilet suite with a soft-close seat
TAPS Alto Tower mixer in basin and a Methven Satinjet Future Rail Shower Alto wall mixer in shower
ACCESSORIES Kosmos chrome towel ring, Kosmos 800mm double rail, Kosmos toilet roll holder, Kosmos glass shelf and Kosmos wall-mounted toilet brush holder and brush
MIRROR Mirror cabinet custom-made with white laminate sides
FLOOR Ovaltine 300mm x 600mm rectified porcelain
WALLS Gloss white 300mm x 600mm rectified porcelain
FEATURE TILING Grey/brown marble stacked-bond mosaics
COST, approximately, for design, manufacture, installation, plumbing and electrical, $33,000