Summer is the perfect time to spend in the soil and in preparation for the upcoming season we present you top tips for gardening
Whether you're mowing the lawn or sitting in a lounger reading a book – the outdoors a great place to be during summer. It's also the time of year when get to see the results of what you've done in the garden earlier in the year. But if there is still some work to do, don't fret — here are three fabulously simple few tips to help you relax.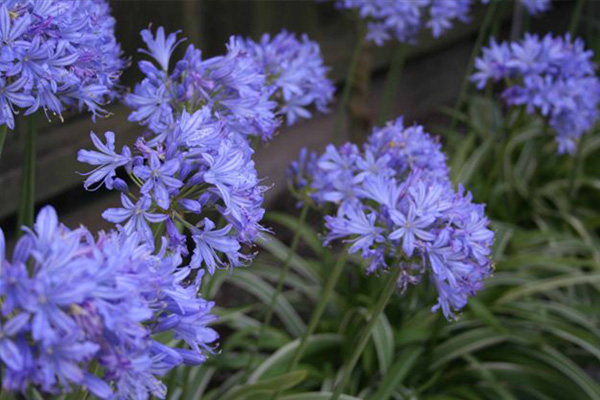 Thunder Storm agapanthus looks this good without lifting a green thumb post planting – well almost. Low maintenance plants like this make summer a relaxing time.
TIP ONE: get the work out of the way as soon as possible. Making an effort to get your summer preparation jobs done early should be your first action. Prune things back, rake up any leaves and garden debris, give the weeds a hard time – all these are good jobs for crisper weather. Not only will you set yourself a cracking pace just to keep warm, but you'll be pink cheeked and feel heroic when you stomp back inside to declare, "Well that's sorted for this coming summer!".
TIP TWO: mulch, mulch mulch. Can't say it enough, but garden mulch acts like a second pair of hands in the garden. Yes, it take a bit of effort to get it to where it's needed and to spread it around, but once it's sitting on top of the soil it is actively making several ongoing garden jobs less of a big deal. You won't need to water as often because mulch acts like a lid on the soil, stopping it from drying out so quickly. You won't have to weed as much because a thick layer of mulch tends to overwhelm weeds and stop them sprouting through or coming in on the wind as seed ready to germinate. You'll also notice that your plants are thriving which means you won't need to deal with scrappy stunted plants (or worse, dead ones).
TIP THRE: plant more great, low-maintenance plants. This sounds obvious but strangely it's something we tend to forget as we gaze into the face of some new, gorgeous looking plant. The last thing we're thinking as we take it up to the check-out is, will this plant look after itself in the garden? Will it keep on looking this good without asking too much of my time? Is it the sort of plant that has a strong constitution so I don't have to molly-coddle it to keep it going?
Picking a great plant is easy as long as you're willing to: 1. Keep your eyes open and; 2. Ask questions. Say you were looking for something to fill a garden bed, or plant in clumps amongst an existing planting. Take agapanthus for example. It would be a good plant choice on the whole, but there are some – like Storm – that are truly a cut above the rest. Storm agapanthus are the ones you'll notice, massed in commercial plantings (the professionals won't tolerate sub-performers). You'll see it in professionally designed domestic landscapes, and you'll spot it in dry settings set out in containers where it has the knack for making an almost arid garden look lush.
This is the earlier, and longer-flowering agapanthus, which is nice. Of course you need to like blue or white, because currently it's only available in a mid-blue called Blue Storm and white (you guessed it, called Snow Storm) and there is a variegated foliage form with deep blue flowers called Thunder Storm. Your eyes will have already showed you that this is a great plant but you'd need to ask around to find out whether it's a fussy princess – and it's not. It grows fast. Doesn't guzzle water. Looks after itself in the heat. Squeezes out the weeds and the only job it does give the gardener is an annual dead heading session… but that depends on taste as for some people, the bare flower heads are a bonus. The only other burden they place on the gardener is to produce so many flowers that you might be forced to cut them to bring inside where they last a very long time and look truly fabulous.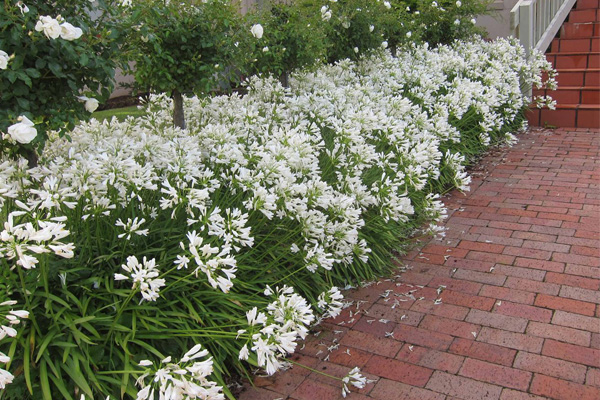 An entrance with impact, thanks to some forward planning and Snow Storm agapanthus and Flower Carpet white roses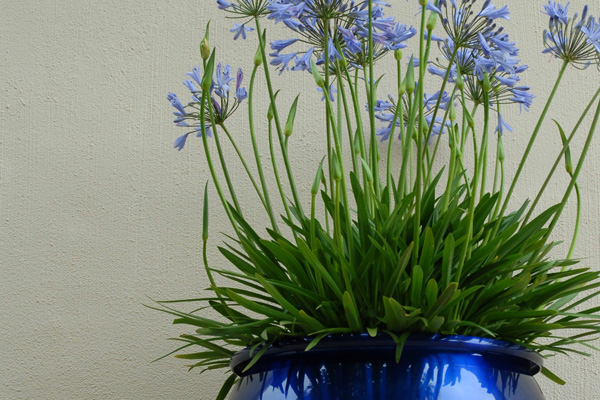 Blue Storm agapanthus is an incredibly stylish plant in a container (above)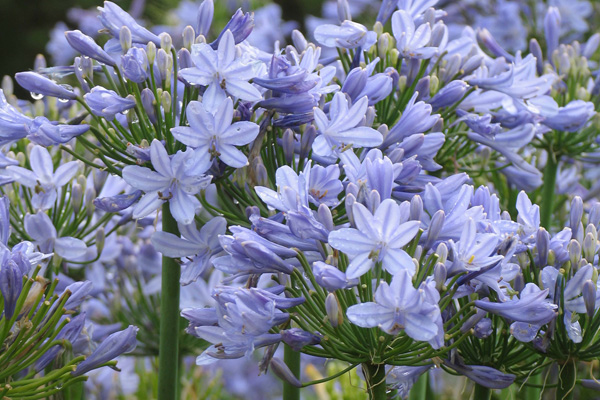 Even in the driest climates Blue Storm looks gorgeous massed in the garden
For more information
Anthony Tesselaar Plants
Website: www.tesselaar.com