By Briony Goode
Good design is the keystone to any building and the importance of selecting a building designer who suits your particular needs is paramount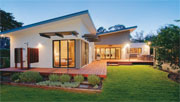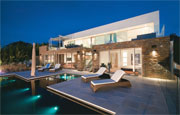 The complexity of modern buildings means that building design is so much more than just drawing a set of plans, putting a few rooms together and adding a roof. Ever-changing legislation, lifestyles, trends and environmental issues need to be addressed by an informed professional.  
Designing your home is a personal experience that explores your unique lifestyle and the designer you choose should work hard to determine the most cost-effective and practical solutions that not only look good but also meet your requirements. Whether you are planning a new home, an extension or renovation to an existing building, you want someone who will work with you to enhance your lifestyle without sacrificing your home's visual appeal or exceeding your budget.
So what are the first steps to finding the right professional for your project?
According to Brian Morison, Executive Officer of the Building Designers Association of Victoria (BDAV), asking friends or family members to recommend someone with whom they've had a positive experience is a good starting point.
"Many building designers obtain the majority of their work by word-of-mouth. Therefore, a good place to begin your search is by checking with family and friends to see whether they can recommend a building designer who satisfied their expectations.
"Alternatively, people may look up the BDAV website to search for a particular designer and get an understanding of what building designers are located in the immediate area where they intend to build their house. However, it isn't essential that a building designer is located in the same vicinity of municipality," Brian says.
Once you have done some pre?selection through word-of-mouth, visiting industry association websites or looking through the Yellow Pages, call to arrange a time to meet those who interest you and prepare a detailed wish list.
"Building designers are always pleased to show clients a portfolio of their designs and this enables you to get an idea of whether that building designer will be able to reflect your needs, expectations and requirements."
Brian recommends asking for the addresses of at least three of their past projects so you can see the building designer's work in three-dimensional form. If possible, talk to those clients about their relationship with the designer and ascertain whether they were happy with the relationship and the design work carried out.
Of course, it is also essential to choose a building designer who has the requisite skills and knowledge to complete the project. Ask to see their qualifications, find out their level of experience and ensure the designer holds professional indemnity insurance.
Keep in mind that every firm has its own way of doing things. Some will be less expensive but offer less service. Some will offer a wide variety of services while others will do things only one way. Some will have a favourite style that they work in while others will work in a variety of styles, depending on what their clients are looking for.
Building a Relationship: 
Equally important is finding someone with whom you can communicate easily, who listens to you and who will offer constructive advice that enhances what you have in mind.
"Good communication is a critical aspect of the relationship between the client and the building designer. The client should feel as though they have an essential and vital role in the design as much as the designer," says Brian.
Darren Evans from multi-award-winning firm Solar Solutions Design and Drafting agrees that good communication during the initial stages of the design brief is essential to realising your goals. "It's a long process that you're about to embark on and if the personalities don't gel at the start of that process, things aren't going to improve," he says.
"One of the main things we do prior to engaging a client is have an initial meeting and discuss all the client's requirements — how they want to live in the home, what they want to get out of the home and also the feeling they want from it — and then talk about how we will interpret those requirements.
"At this stage, the client and the designer should be very open and honest as to whether or not they feel that connection has been achieved. If you don't get that connection, it's going to be a long, hard battle throughout the process and somebody is not going to be happy at the end of it.
"Most designers have their comfort zone of what they like to design and the client should be focused on that answer before they make a selection."
Money Matters: 
Fees can be a deciding factor for some people when choosing a building designer. As fashion designer Gucci once said: "Long after the price is forgotten, the quality remains." Nothing could be more apt when it comes to the design of your new home.
Choosing a designer based on price can be a costly mistake. You need to choose the designer you think will do the best job. You may save a couple of thousand dollars in design fees but will spend more fixing design problems during construction and end up with a house that you are not happy with.
Check with the designer up front to make sure that you are at least in the ballpark with your expectations — that what you are planning is within the realm of possibility, given your budget. If not, the designer will be able to tell you early in the process, saving both of you a lot of time.
Michael O'Sullivan of Vibe Design Group, a leader in top-end dwelling design, says he can "glean pretty quickly" whether a client is "on the same page" in terms of budget and expectations.
"We get people wanting 60 squares on a $400,000 budget and, without offending them, we suggest that Vibe isn't right for them. I believe there is a big issue in the marketplace at the moment with construction costs versus the public's expectations of what they're going to get because they align it with all the project homes. The project builders' square-metre rate is very difficult to achieve with anything individually designed for the block and the sustainability aspect truly requires that individual attention to make it work.
"The money you spend on a designer who knows what they are doing is the best money you can spend because they create the script for the whole process and they also protect your investment with the design."
According to Brian Morison from the BDAV, there are no recommended or prescribed fees that can be provided to you relating to the work carried out by building designers. "Fees will vary depending on the nature and complexities of the design brief, the site itself and planning issues such as neighbourhood character. Fees may be based on an hourly rate, a lump sum basis or as a percentage of the total construction cost," he says.
The Elements of Good Design: 
Every building site is unique, with its own set of problems and possibilities. It is the task of the building designer to overcome the problems and make the most of the possibilities. Unlike project builders who start with a home already designed for the mass market that is not site-specific, building designers have been educated to specialise in design and will design a one-off home that is site-specific with all your individual needs factored into it. One-off homes are generally more cleverly designed and visually more interesting as they are not appealing to the mass housing market.
Michael O'Sullivan, whose company won five awards for a recent project in Kew, including the 2008 BDAV Building Design of the Year, says that good design should not only be captivating and enduring but should also maximise space.
Vibe Design's winning design in Kew is actually two dwellings on one lot, which were designed to establish themselves as two homes on individual blocks in order to maximise the land as well as its commercial sale potential.
Timber and copper were selected as the claddings for one dwelling due to their ability to blend with the surrounding environment. "The silvertop ash will eventually grey off and the copper will tarnish and go green, so the house will evolve in appearance over time and that was deliberate," explains Michael. "We've used ExoTec cladding and bluestone on the other property — two products that will not visually age."
Michael says orientation and placement of the home are also critical elements of the design process.
"It's not just orientation — it's where the home sits. You can have a subtle difference of a metre forwards or a metre back and all of a sudden you get a totally different view or maybe preservation of privacy. So we position ourselves on the land with contour surveys in hand and look at not only what we're going to do but also the age and condition of the homes around us so this can be factored into the actual design phase. We don't want to create an open space that's going to be overlooked by a neighbour in two years' time.
"We also like to make an impact as you drive up to a house. I think your expectations are raised if a home is visually appealing. We concentrate on elevations, the materials that are used, the home's longevity and the view the public will get and how the home will be admired."
According to Darren Evan, energy efficiency and sustainability are also an integral part of the home design process these days and are being demanded by more and more home owners. "If we can design a house where the client doesn't have to use their heating or cooling and remain comfortable all year, our job's done — we're happy. We've done houses that have had no heating or cooling installed at all, which is a tremendous leap of faith for a client," Darren explains.
Before you engage the services of a building designer, the Building Designers Association of Victoria (BDAV) recommends that you:
Always check with the Building Practitioners Board to verify that the building designer is registered as a building practitioner under the category of Draftsperson, Class of Building Design (Architectural). This can be done via the Building Commission's website at www.buildingcommission.com.au or by contacting the Building Practitioners Board on 1300 360 380. 

Ascertain whether the building designer is a member of an industry association. 

Analyse your quotes carefully to ensure that the scope of services being provided are similar in nature when making your comparison of quotes. 

Ensure that you enter into a written contract that sets out the terms and period of payments, timelines and details of the precise nature of the scope of services to be provided. A written contract properly detailing the rights and obligations of both parties reduces the potential for any disputes that might arise. 

If planning approval is required, ensure the building designer explains the pitfalls that sometimes occur in making an application. Planning issues have become more and more complex and objections are commonplace. 

Be aware that not only are the plans and drawings an integral part to the success of your project, but properly detailed specifications are also essential, as this document details the quality and standard of materials and workmanship to be carried out by the builder on your project. 

Ensure you are aware of 'Moral Rights Obligations', particularly where your project involves changing, relocating, demolishing or destroying an existing building.