The owners of this grand kitchen faced a curious challenge when they renovated their home.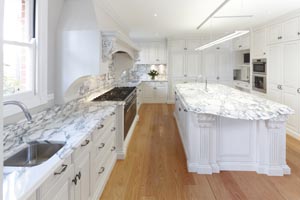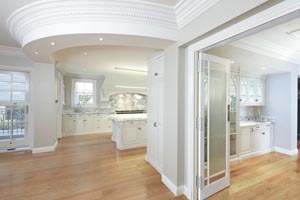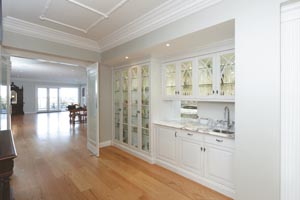 Unlike most residential properties, this classic Queenslander was not a domestic dwelling but a restaurant when they bought it, leaving them with the task of converting it back into a home. Although a professional kitchen may seem like a wonderland for an amateur chef, it's anything but practical in a family household.
The original room, although large, was dark and gloomy and closed off from the rest of the house. There was very little natural light and a '70s colour scheme added insult to injury. Dealing with this dire setting was designer Jurek Polkowski's first concern. Walls were brought down to open up the space and join it to the living area, which was once the restaurant's dining room. Glorious French doors were also installed to allow the new kitchen to flow into the welcoming outdoor entertainment area. The wide doors permit a wash of natural light into the room, which reflects off the granite, glass and stainless-steel finishes as well as the marble floor tiles.
Such modern materials form the basis of the design and give the traditionally styled home a contemporary touch. The palette has been kept neutral to enhance the natural stone benchtops, which boast a vibrant mix of green, chocolate and grey swirls and streaks. The sprawling three-metre island bench is the focal point of the room as it stands proudly at the boundary of the kitchen and provides ample preparation and serving space. It also supplies seating for up to seven people, which gives guests the opportunity to socialise with the cook.
Dana Kitchens has transformed a professional kitchen into an inviting and functional space with excess storage and a homely appearance without compromising its gourmet standard. The owners now have the latest hot spot in town — at least among their friends and family.
Fact File
BENCHTOPS 30mm Tronco D'Albero green natural stone and recycled timber
DOORS Shaker style with a two-pack polyurethane paint finish and framed glass
HANDLES Brushed stainless-steel knobs
KICKBOARDS Recessed two-pack polyurethane
SPLASHBACK Glass Tiles Rectangular marble
LIGHTING Downlights
APPLIANCES include an Ilve gas upright oven, Ultima 90cm canopy, DeDietrich fully integrated dishwasher and steam oven, Vintec wine fridge and Samsung refrigerator
Taylor Made Digital Photography